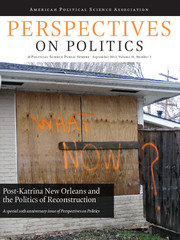 We hope that this special issue of Perspectives on Politics will not simply mark the tenth anniversary of the journal, but will honor, and stimulate, the impulse that has fueled the journal from the beginning...
(PRWEB) August 28, 2012
As Editor-in-Chief Jeffrey C. Isaac states in the issue's Introduction: "We hope that this special issue of Perspectives on Politics will not simply mark the tenth anniversary of the journal, but will honor, and stimulate, the impulse that has fueled the journal from the beginning—the impulse to promote forms of political science research and writing that are at once scholarly, serious, engaging, and mindful of their place in a world clearly in need of greater understanding."
When Hurricane Katrina raged across the Gulf of Mexico in August 2005, it took almost two thousand lives. In the weeks that followed, the world watched as the natural disaster unfolded into a human, social, and political disaster, symbolized by flooding, destruction, and the displacement of New Orleans' entire population of over 450,000 people. Post-Katrina New Orleans encapsulates some of the most important themes in the study of politics: power and inequality, urban crisis, post-disaster reconstruction and development, and the complex intersections of race, class, gender, and sexuality.
The September issue Perspectives on Politics features a wide range of articles, essays, symposia, and book reviews and review essays dealing with these themes. The issue includes commissioned essays by both previous editors of the journal, Jennifer Hochschild (on demographics and politics) and Jim Johnson (on photo-journalism and New Orleans); articles on political parties and the politics of non-responsiveness, the ways that corruption limits strategies of development, and privatization and post-Katrina reconstruction in New Orleans; and an essay on jazz and race in New Orleans.
A discussion on "Perspectives on New Orleans and the Politics of Reconstruction," combined with a reception, will take place at this year's American Political Science Association in New Orleans on Friday 31 August 2012 at 4:15 pm in the Rhythms 1 Room at the Sheraton Hotel.
Notes to editors
For further information please contact Michael Marvin of Cambridge University Press at (001) 211.337.5041 or by email at mmarvin(at)cambridge(dot)org.
About Perspectives on Politics
Perspectives on Politics seeks to promote a political science public sphere by providing a space for broad and synthetic discussion within the political science profession and between the profession and the broader scholarly and reading publics. It is published for the American Political Science Association by Cambridge University Press.
Its tenth anniversary issue (Volume 10; Issue 03; September) includes a combined total of 79 research articles, "Reflections" essays, critical dialogues, book symposia, book reviews and review essays, discussing New Orleans and politics in the aftermath of Hurricane Katrina.
The issue includes:

"A Perspective on Perspectives" by Editor-in-Chief Jeffrey C.Isaac
"Responsive and Responsible Leaders: A Matter of Political Will?" by Anna Persson and Martin Sjöstedt
"Disaster Inc: Privatization and Post-Katrina Rebuilding in New Orleans" by Kevin Fox Gotham
"Jazz and the Boundaries of Race" by Charles B. Hersch
Further information and a full list of contents can be found on this link: http://journals.cambridge.org/PPS
All articles are available in full; please contact us using the details above.
About American Political Science Association
Founded in 1903, the American Political Science Association (APSA) is the leading professional organization for the study of political science and serves more than 15,000 members in over 80 countries. With a range of programs and services for individuals, departments and institutions, the association brings together political scientists from all fields of inquiry, regions, and occupational endeavors within and outside academe in order to expand awareness and understanding of politics.
APSA publishes three academic journals, the American Political Science Review, Perspectives on Politics and PS: Political Science & Politics, and is associated with over 15 additional political science journals through its organized sections and which cover a range of topics and areas within political science and related fields.
About Cambridge Journals
Cambridge University Press publishes over 300 peer-reviewed journals, including journals published on behalf of over 100 learned societies, which form the latest in research and discovery across a range of topics. Many of these journals are the leading academic publications in their fields and together they form one of the most valuable and comprehensive collections of research available today.
Across the world, Cambridge Journals are available in online and in print – keeping scientists, researchers and scholars abreast of crucial developments in research.
For further information, go to: http://journals.cambridge.org