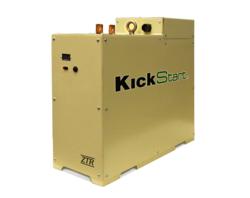 Delivering innovative locomotive control systems for 25 years.
Minneapolis, MN (PRWEB) August 29, 2012
ZTR Control Systems has been delivering innovative control systems for railway applications since 1987. ZTR is showcasing two new products at the RSI show at the Sheraton Chicago Hotel & Towers in Chicago: KickStart™ Battery Assist and ROVER™ Locomotive Radio Remote Control.
Stop by Booth 406 and check out other industry-leading products that are trusted by railroads around the world:

NEXSYS™ III-i Locomotive Control Systems give you the best value for your investment in locomotive control. The reliable design, improved tractive effort, and integrated AESS technology are a winning combination that will extend the life of your locomotives.
SmartStart®: The most trusted name in automatic engine start/stop (AESS) systems on the market, and the new SmartStart IIe offers an emissions report for documentation and verification of idle reduction.
Locomotive Battery Saver System™: When a locomotive is shut down manually, non-essential circuits can drain the locomotive batteries and result in dead batteries or reduced battery life. With the Locomotive Battery Saver System from ZTR you will see locomotive starting improvement and reduce locomotive dead battery occurrences.
ZTR offers solutions to improve the efficiency and operational performance of equipment which enables our customers to become more profitable. For more information visit http://www.ztr.com, e-mail railinfo(at)ztr(dot)com, or call 1-952-233-4340.
About ZTR Control Systems
Since 1987, ZTR Control Systems has been providing intelligent equipment management systems for railway and industrial applications. Our integrated Locomotive Control System Solutions improve the performance of your existing locomotive fleet at only a fraction of the cost of buying new locomotives. Our Intelligent Starting Technology saves you fuel, reduces emissions, and reduces starting problems.
# # #