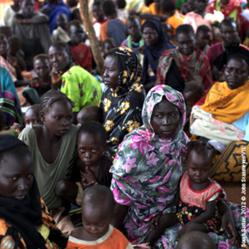 (PRWEB) August 27, 2012
Situation Critical: An MSF Frontline Report from the Unfolding Refugee Crisis in South Sudan
LIVE Online Webcast
Wednesday, August 29, 2012 - 8:00 PM EDT
WHAT: Join Doctors Without Borders/Médecins Sans Frontières (MSF) online for a LIVE moderated panel discussion on one of the most under-reported humanitarian emergencies in the world today, featuring recently returned MSF emergency field staff and a slide show by an award-winning photojournalist who has documented the crisis.
WHO:
Sophie Delaunay - Executive Director, MSF-USA
Matthew Horning, MD - MSF South Sudan Emergency Physician
Kate Mort - MSF South Sudan Emergency Human Resources Coordinator and MSF-USA Field Human Resources Officer
Phil Zabriskie - MSF South Sudan Emergency Communications Officer and MSF-USA Managing Editor
Screening: A reportage from photojournalist John Stanmeyer of VII Photo and National Geographic Magazine
WHEN:  Wednesday, August 29, 2012 - 8:00 PM EDT
WHY: In the past eight months, more than 170,000 refugees have fled fighting and aerial bombardments in Sudan's South Kordofan and Blue Nile States for camps across the border in South Sudan. Yet this escalating emergency has received scant media attention and garnered little in the way of donor funding.
MSF has deployed thousands of staff to run hospitals and malnutrition feeding centers, build wells for drinking water, and provide sanitation services in response to the emergency in South Sudan. Facing catastrophic death rates, escalating malnutrition, outbreaks of malaria, and extremely complex logistical hurdles, MSF teams are further scaling up an already massive aid effort in an incredibly challenging environment.
The panelists will provide first-hand accounts of the on-the-ground reality of mobilizing the aid effort; from dealing with washed out roads and airstrips, to coping with outbreaks of severe malnutrition, malaria, and diarrheal disease. They'll share stories from refugees fleeing the violence in Sudan.
The panelists will also answer questions submitted via an online web chat.
PLEASE REGISTER to receive information on how to view the webcast on August 29.