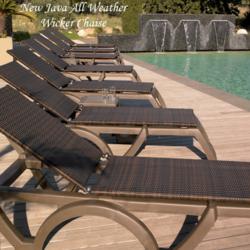 "I believe the addition of these two stackable chaise lounges will be a great asset to ParknPool's clients."
Lexington, VA (PRWEB) August 27, 2012
ParknPool has, once again, added to their product line and expanded their Grosfillex® chaise lounge selection. As a leading online distributer of commercial grade outdoor furniture and site amenities, ranging from pool furniture and park benches to playgrounds and planters, ParknPool recognizes the need to offer their clients quality products they can rely on. Grosfillex® set the industry standard of resin outdoor furniture in both the commercial and residential market and has been the leader in this market for over 15 years. Grosfillex® manufactures innovative products that are specifically designed for use in the food and hospitality markets. They pride themselves on the safety standards they established through ASTM (American Society for Testing and Materials).
ParknPool's pool side chaise lounge collection now includes Grosfillex's® Java All Weather Wicker Chaise and the Calypso Adjustable Chaise. Both chaise frames are molded from commercial grade resin that is durable and will not harbor mold, mildew or fungi. The all weather wicker seat on the Java is crafted from VIRO® fiber which is a highly flexible material that is resistant to fading, peeling, breaking, or cracking. The Calypso Sling has Microban® incorporated into the material which helps keep the sling cleaner longer. Both chaises are stackable and are fitted with a quick snap removable sling, allowing the user to store, change, and clean the chaises easily.
"According to a news report by Global Industry Analysts, Inc., the outdoor furniture market will exceed $5 billion by the year 2017. ParknPool has recognized this growth and understands the need to providing comfortable, reliable, easy to maintain and stylish furniture to fashion any outdoor space. "I believe the addition of these two stackable chaise lounges will be a great asset to ParknPool's clients," states Jim Fonner, Administration Manager for ParknPool Corporation.
In addition to the two new chaises, ParknPool has added new color options to a few Grosfillex® products, including chaise lounges, folding chairs, poolside dining tables and umbrellas. They are, once again, ensuring that their clients have the best chance to find what they need. ParknPool strives to offer their clients the best selection of outdoor amenities and customer service because they understand that they are not the only player in the game of outdoor furniture. ParknPool achieves this by enhancing their clients' expectations and experience while enhancing their clients' earnings. For more information about ParknPool's product line, including the new Grosfillex® products, please visit http://www.parknpool.com or call 877-777-3700.
About ParknPool Corporation:
ParknPool is Veteran Owned SBE/WBE Company and is the leading online supplier of commercial grade furniture and site amenities such as picnic tables, trash receptacles, park benches, bleachers and restaurant furniture. ParknPool was begun in 1998 in Orlando, FL and moved their headquarters to Lexington, VA in 2005. (http://www.parknpool.com)