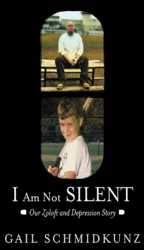 'I Am Not Silent' shares the true story of one family's faith-filled, life-changing journey through depression that sheds much-needed light on the frightening issue of drug-induced insanity.
Minot, ND (PRWEB) August 28, 2012
"I Am Not Silent: Our Zoloft and Depression Story" (published by Inspiring Voices) is a testament to the power of trusting one's faith in God during times of personal tragedy. It tells the story of Zach Schmidkunz, a regular kid whose descent into the depths of depression ended in a horrific crime – and a lengthy prison sentence.
Written by Zach's father, Gail Schmidkunz, "I Am Not Silent" is not only a warning to people dealing with depression and the treatments for this pervasive disease, but also an inspiring tale of how an everyday family's unwavering faith saw them through despair and adversity, healing and strengthening them in the process.
Zach began to struggle with depression after leaving home to attend college. He was put on academic probation – and then Zoloft. Today, Zach is a convicted murderer. His father's powerful, heartfelt writing helps the reader understand how a normal American teenager leading a happy life could fall so far, so fast.
"Someone needs to sound the warning that antidepressants are not safe for everyone," says Schmidkunz, a middle school math teacher. "If you are unsure about the safety of an anti-depressant like Zoloft, read my book. And trust in God when your situation seems hopeless."
"I Am Not Silent" also details how the criminal justice system deals with youth-on-youth violence. Most importantly, it carries an urgent message for us all – a message that could very well save a life.
"Depression is an illness," says Schmidkunz. "Depressed people reach out in subtle ways for help. Be observant and take nothing for granted if someone close to you is depressed."
###
Inspiring Voices, a service of Guideposts, is dedicated to helping authors share their words of hope, faith and inspiration with the world. A strategic publishing partnership with indie book publishing leader, Author Solutions, Inc.; Inspiring Voices allows authors to publish inspirational and spiritual books without respect to their specific doctrine, denomination or political point-of-view. Authors published through Inspiring Voices benefit from access to exclusive Guideposts marketing services, with select titles appearing in a special collection at Guideposts.org. For more information on publishing with Inspiring Voices, log on to inspiringvoices.com or call 866-697-5313.