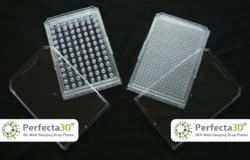 Pharmaceutical and biological research is strong in India. 3D Biomatrix is excited to have the Hanging Drop Plates available there.
Ann Arbor, MI (PRWEB) August 29, 2012
3D Biomatrix, a leader in the development of three-dimensional (3D) cell culture products, has a signed distribution agreement with a prominent life science research product distributor, Arrow Labs, to market and sell the company's Perfecta3D® Hanging Drop Plates in India.
Perfecta3D Hanging Drop Plates facilitate the formation, culture, and testing of 3D spheroids and embryoid bodies (EBs) in a well-plate format without the aid of coatings or matrices. Spheroid and EB formation is controllable and easy with Perfecta3D Hanging Drop Plates. Users simply pipet a cell suspension into each channel; the channel shape causes the drop to securely hang from the bottom of the well. As cells do not contact any surfaces, they aggregate into a spheroid. One spheroid forms per well, and its diameter is controlled by the cell type and number of cells added to each well.
Cultures grown in Perfecta3D Hanging Drop Plates are uniform and the size of the spheroids or EBs can be controlled. Access to the drops from the top of the plates allows for simple media changes and the addition of compounds or cells for co-cultures. With uniform 3D cell cultures, researchers can easily mimic tissue metabolic and proliferative gradients, capture complex cell-matrix and cell-cell interactions, conduct co-cultures, and monitor cell growth easily and regularly.
"Pharmaceutical and biological research is strong in India," said 3D Biomatrix CEO Laura Schrader. "We are excited to have our Hanging Drop Plates available there."
Information about the Perfecta3D Hanging Drop Plates can be found on the 3D Biomatrix website, and contact information for Arrow Labs can be found on the distributors site.