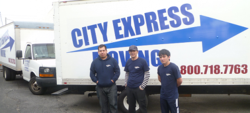 On time and affordable. Nice
Brooklyn, NY (PRWEB) August 29, 2012
718-415-6080 or 212-203-2647 http://www.cityexpressmove.com
Moving is one of the most difficult things people ever do, with most feeling the stress built from the moment the decision is made. People spend all night packing boxes for the movers, carefully labeling them "FRAGILE," only to have a few gruff men throw them around with gleeful abandon and then charge a couple hundred dollars extra in hiddenfees—which, of course, most give them because they're too tired to fight and, frankly, a little too scared to argue with someone three times their size. Well, consider those days over.
City Express Movers offer a much more pleasant experience:
Their employees are timely and professional, and they have a miraculously delicate touch with possessions. Best yet, their rates aren't exorbitant, and they'll send the minimum workers needed to ensure a fair price break. Indeed, Mrs.Tursunova's company has earned itself a stellar reputation over the 6 years they've been in business for fast, excellent service—punctual moving men who disassemble and reassemble hard-to-move pieces of furniture, wrap it up nicely, and place it where you want it to go. Midwood, NY based family owned and operated moving company started this effort with an old van, strong backs, and not much experience. But early on they realized an important nuance of moving, and thought it was special. Whether residential or commercial relocation, they will escort customers & their belongings from their old home to their new one, & then they're gone. Their standards are absurdly high, and they do everything in their power to make sure their customers completely satisfied!
925 East 14th Street #3D Brooklyn, NY 11230 3rd Floor