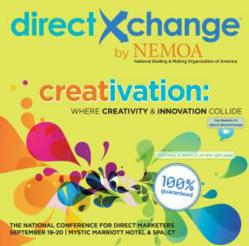 Indianapolis, IN (PRWEB) August 28, 2012
Fifth Gear, a provider of direct-to-consumer order fulfillment, contact center, ecommerce technology, and marketing services, is pleased to announce its participation in the upcoming directXchange Conference by NEMOA, a national conference for direct marketers. Their Fall 2012 event will be held September 19-20 in Groton, Connecticut. Fifth Gear is a member of NEMOA and is returning as a Bronze-level Sponsor of the conference.
The agenda for this year's fall conference offers concurrent "think tank" and "schoolhouse" sessions as well as networking and collaboration opportunities for retail's leading direct marketers. Speakers and attendees include some of the most respected names in direct-to-consumer retail. Registration rates for the conference begin at $449 per person.
"Every retailer has to fight to stay ahead in such an incredibly competitive industry. We support the NEMOA conferences because they provide timely information to help our clients and others like them succeed," says Fifth Gear President Matt Konkle. "Fifth Gear considers this event a must-attend conference for catalogers and e-tailers alike, and we're proud to be back as a sponsor this year."
New this year, NEMOA has partnered with Multichannel Merchant Magazine (MCM), and the conference will be host to the MCM Annual Awards which recognizes successful cross-channel marketing and tactics.
NEMOA President Cindy Marshall says, "NEMOA's directXchange is the hottest event in the industry." In her video promotion of this year's conference, she comments, "Come celebrate cross-channel excellence and learn who the best websites, the best catalogs, and the best merchants are."
The organization's next conference is scheduled for March 13-15, 2013 in Boston. To learn details of the Fall 2012 Conference, please view their interactive brochure: http://www.nemoa.org/inter-brochure/interactive-fall2012/appli.htm.
###
About Fifth Gear
Fifth Gear (http://www.inFifthGear.com) provides outsourced order fulfillment, contact center services, retail technology and marketing services to direct-to-consumer retailers and manufacturers of consumer products. The Company serves as a single source partner to its catalog and ecommerce retail clients, providing access to the industry expertise, infrastructure, technology and value-add services they require to drive revenue growth. Fifth Gear is privately-held and headquartered in Indianapolis, Indiana with additional locations in Missouri and Pennsylvania. The Company employs over 500 people and has served over 100 retailers including some of the world's most recognizable brands.
About NEMOA
NEMOA, the National Etailing and Mailing Organization of America, offers etailing and catalog companies as well as industry service providers of all sizes an affordable network for sharing ideas and experiences, building relationships, exploring new opportunities, working together and learning about industry trends and issues that affect their businesses. Founded in 1947, NEMOA is one of the nation's largest and most active multichannel merchant associations dedicated exclusively to the direct marketing industry. For more information about NEMOA, please visit http://www.nemoa.org.
Media Contact
Jessica Balser
Fifth Gear Marketing Department
jbalser(at)infifthgear(dot)com
(317) 631-0907 ext. 8622