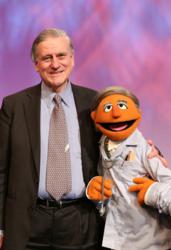 (PRWEB) August 27, 2012
There's a new doctor in town. Valentin Fuster, MD, PhD, Director of Mount Sinai Heart, is the inspiration for a Muppet doctor on Barrio Sésamo: Monstrous Supersanos, the Spanish version of Sesame Street which debuted on Spain's Antena 3 just last month. The character named "Dr. Valentin Ruster" is helping to educate children to lead healthier lifestyles through exercise and healthy diet.
Dr. Fuster, who is the former president of the American Heart Association and the World Heart Foundation, hails from Barcelona, Spain, and holds numerous distinctions including honorary doctorate degrees from 30 distinguished universities across the globe. As the Chair of the Committee on Preventing the Global Epidemic of Cardiovascular Disease for the Institute of Medicine (IOM), he is a prominent advocate for cardiovascular health around the globe. With the addition of Dr. Ruster on the series in Spain, Dr. Fuster's likeness is helping to educate children to lead healthier lifestyles through exercise and healthy diet and lifestyle.
And just who is Dr. Ruster? In the Muppet doctor's own words, "I have dedicated myself to that miraculous, beautiful organ… the heart! My heart jumps at the chance to spend time with my furry friends in Barrio Sésamo. We love to exercise and eat scrumptious fruits and veggies together. But most of all, I just love to talk to my friends helping them get to the heart of any matter." In the first episode of Barrio Sésamo: Monstrous Supersanos, produced by nonprofit educational organization Sesame Workshop, Dr. Ruster enlightens Grover on the functions of the heart, while on another, he hosts a game show testing Cookie Monster on the difference between healthy and unhealthy food.
Dr. Fuster serves as an international advisor on Sesame Workshop's Global Health Initiative. Cardiovascular disease is the leading cause of death around the world, and the goal of the initiative is to measure health improvements in children and build global partnerships to address their critical health issues. In fact, many studies show that childhood obesity leads to cardiovascular disease, thru an increase in cardiovascular disease risk factors including high blood pressure, high cholesterol, etc. Globally, in 2010, the number of overweight children under the age of five is estimated to be over 42 million. Sesame Workshop, which has been creating specific content on healthy habits for young children and their families for almost a decade, is now exploring opportunities with Dr. Fuster to extend its initiative in the United States.
Dr. Fuster first joined forces with Sesame Workshop in 2006 to collaborate with Plaza Sesamo, the Latin American version of Sesame Street, to promote cardiovascular health and well-being in Colombia. The series there encourages children, parents, teachers, and caregivers in making informed nutritional and lifestyle decisions based on educational television content, community outreach, and evidence-based research.
Dr. Fuster is working on six other projects worldwide with the goal of promoting health among children, adults, and the elderly.
About The Mount Sinai Medical Center
The Mount Sinai Medical Center encompasses both The Mount Sinai Hospital and Mount Sinai School of Medicine. Established in 1968, Mount Sinai School of Medicine is one of the leading medical schools in the United States. The Medical School is noted for innovation in education, biomedical research, clinical care delivery, and local and global community service. It has more than 3,400 faculty in 32 departments and 14 research institutes, and ranks among the top 20 medical schools both in National Institutes of Health (NIH) funding and by U.S. News & World Report.
The Mount Sinai Hospital, founded in 1852, is a 1,171-bed tertiary- and quaternary-care teaching facility and one of the nation's oldest, largest and most-respected voluntary hospitals. In 2012, U.S. News & World Report ranked The Mount Sinai Hospital 14th on its elite Honor Roll of the nation's top hospitals based on reputation, safety, and other patient-care factors. Mount Sinai is one of 12 integrated academic medical centers whose medical school ranks among the top 20 in NIH funding and by U.S. News & World Report and whose hospital is on the U.S. News & World Report Honor Roll. Nearly 60,000 people were treated at Mount Sinai as inpatients last year, and approximately 560,000 outpatient visits took place.
For more information, visit http://www.mountsinai.org/.
Find Mount Sinai on:
Facebook: http://www.facebook.com/mountsinainyc
Twitter @mountsinainyc
YouTube: http://www.youtube.com/mountsinainy
# # #