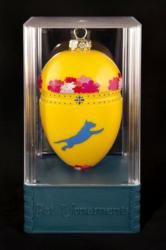 Pet Urnaments allow us to reflect on the happy memories our pet companions brought to us.
Glen Rock, New Jersey (PRWEB) August 29, 2012
Urnaments LLC, manufacturer and wholesaler of the Urnament and Pet Urnament has begun a charitable program they call "Give Back" (see Urnaments web page for more information)
The program, as explained by Urnaments LLC President Michael Martino, works on the "donation from sales principle". For example, whenever a charitable pet organization or animal hospital refers someone to Urnaments, should that person make a purchase, 10 - 15% of the sale is donated back to the organization or hospital.
All the purchaser has to do is enter the special Coupon Code that Urnaments issues to each of its sponsoring charities and animal hospitals.
"It's part of the karma we want for ourselves," said Michael Martino, President of Urnaments LLC. "My wife and I feel that wherever this journey takes us, we want to stop and smell the roses along the way. That's what "Give Back" is all about."Urnaments
will also list these organizations on their Our Supporters page.
Urnaments LLC was founded by Michael C. Martino in 2010. All engineering / prototyping / designing of the Urnament was completed in November, 2011. Urnaments are technically known as keepsake urns and will hold up to seven inches of a person or pet's ashes. By matching their decorative appeal with an eyelet at the top, Urnaments and Pet Urnaments can be displayed on a Christmas tree or anywhere else in the home.
For more Information please go to http://www.urnaments.com