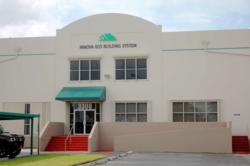 There is an easier way to build, it's the Innova Way!
Miami Florida (PRWEB) August 29, 2012
Innova Eco Building System, a manufacturer of Structural Insulated Panels (SIPs) has announced that it has opened a new automated manufacturing facility in Miami Florida. The Innova facility was designed for mass production of energy efficient green housing kits making it one of the only mass production facilities in the USA with a yearly output capacity of more than 3000 units. Innova started manufacturing from the new facility this June and is already exporting more than 50 building kits each month. With all building envelope components engineered and built in Innovas' factory to exacting specifications, the Innova fast-track construction system accelerates the building schedule while using less labor which saves the building Owner time and money. Innova manufactures OSB, cement fiber and magnesium oxide skin SIP panels which are used in its energy efficient building kits or it sells its panels directly to the building industry. Whether you build one home or 1000, using the Innova Panelized Construction System will not only cut the cost of construction, but it will also dramatically lower the operating and maintenance costs over the useful life of the buildings. The Innova building system is fast, durable, energy efficient and can help your next project meet those stringent deadlines. There is an easier way to build, it's the Innova Way! We export Worldwide!