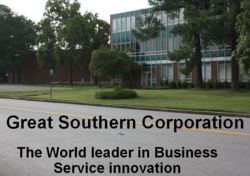 Memphis, TN (PRWEB) August 28, 2012
Great Southern Corporation in Memphis, Tennessee has unveiled what promises to be the most comprehensive business services offering available anywhere. After watching neighboring friends shut down their businesses or eventually sold off for pennies on the dollar, President and CEO Scott Vaught knew he had to find a way to strengthen his business while helping others at the same time. After months of discussions with other business leaders, government and banking officials, Vaught realized the sharing of resources by means of forming a co-op was the most cost effective way to accomplish his goals.
Known as Vested Outsourcing, the GSMemphis plan essentially allows for any existing or start-up company to outsource their administrative functions – from billing to supply chain logistics - at no initial cost. This new innovative model helps existing businesses shift costs from fixed to variable costs, which effectively reduces a company's overall expenses. After set-up, the company receives a single monthly bill itemizing all transactions for the month. Recently Vaught read several articles where the world's top economists validated the vested outsourcing model as the 21st century solution to mitigate the burdening costs of managing business.
Vaught's vision is also a platform to help incubate start-up companies. The plan offers virtually everything a new business requires to ensure complete customer satisfaction. "Owners can tailor their requirements to suit their business needs," states Vaught. "Furthermore, companies can add to or take away services at any time without penalty." The independent business retains total control and has complete transparency into the administrative back office transactions handled by GSMemphis. The news is spreading fast and GSMemphis is ramping up for what it anticipates to become a worldwide service.
About GSMemphis. A Memphis, Tennessee based corporation with office staff and warehouse facilities located under one roof, GSMemphis is equipped with full EDI capability to ensure seamless transactions and inventory control with major US retail chains. The central US location in Memphis, Tennessee is minutes from the world's largest air cargo terminal, rail container yards, Mississippi river port access and several truck line terminals. For more information, contact GSMemphis at 1-901-365-1611 or email scottv (at) gsmemphis (dot) com.