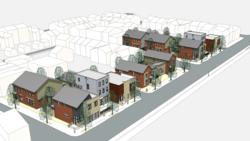 (PRWEB) August 29, 2012
Crews from Mistick Construction have begun work on Lawrenceville's newest housing development, Hatfield + Home with fourteen new houses along Hatfield Street between Home Street and Cotton Way.
The site, located about a block away from the Allegheny River, is one of the first new housing developments in the Central Lawrenceville neighborhood. "Along with the Botero renovations at 48th Street and the Locomotive Lofts rental housing, Hatfield + Home will help to establish the neighborhood as a key anchor to our Allegheny Riverfront Development Plan. We are excited to see it happening." explained Matthew Galluzzo, Executive Director of Lawrenceville Corporation.
Lauren Byrne, Executive Director of Lawrenceville United, added: "Over the past two years, thirty-five new businesses have opened in Lawrenceville and we have more than $50 million in new development underway now. Hatfield + Home is an exciting project and a big step towards reconnecting all the great things happening throughout the commercial corridor with residential districts closer to the Allegheny Riverfront."
Hatfield + Home is designed by architects Perfido, Weiskopf, Wagstaff + Goettel, the project is being developed by Bob Mistick through North Lincoln Investment Co. with Jack Johnston as the project manager.
The development will provide six different home plans with 2- and 3-bedroom units scheduled to sell in the mid-$200,000 to the high-$300,000 range. Four homes will be fully detached and the ten will be built as two-unit duplexes. Flexible, open floor plans and a selection of high-end finishes will allow buyers to customize the homes to reflect their own style. All of the properties will be ENERGY STAR qualified homes with landscaped patios, fenced back yards, and garage parking included for each home. Some units will offer small vegetable gardens as an option.
The exteriors will feature brick with metal sheathing, HardiePlank® lap siding, and glass. According to Bob Mistick, "The idea has been to tie our design to the history and character of Lawrenceville but also to make a statement about the neighborhood's future, so we've used industrial materials and arranged them in a contemporary way."
The site was assembled by the Urban Redevelopment Authority with the support of the Office of Mayor Luke Ravenstahl. The URA also provided a $200,000 grant from its Pittsburgh Housing Construction Fund.
Hatfield + Home will be built in two phases with the first six units scheduled for completion early in 2013. Sales are being handled by Christa Ross from RE/MAX Select Realty. Details can be found at http://www.hatfieldandhome.com or by calling 724-779-1437.