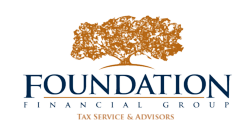 If an extension of time to file was requested, the completed return is due by October 15th.
Jacksonville, FL (PRWEB) August 27, 2012
With the extension deadline fast approaching, Foundation Financial Group's Vice President of Tax Services, Joshua Barger, talks tax tips to help taxpayers who are still working to file their 2011 tax returns.
"If an extension of time to file was requested, the completed return is due by October 15th," said Barger. "An extension of time to file, however, is not an extension of time to pay. If there is an unpaid balance owed after the April 17th deadline, a late payment penalty, known as a failure-to-pay penalty, is one-half of one percent of the tax balance owed for each month and part of a month that the tax balance due is late, up to 25 percent. If a taxpayer owes a tax balance and does not file their return by the extension deadline of October 15th they will incur what is known as a failure-to-file penalty, which is a much heavier penalty. The taxpayer will pay five percent of the tax balance owed for each month and part of a month that the tax balance due is late, up to 25 percent. If the tax payer is getting a refund, there is no penalty for exceeding the filing extension because the origin for any penalty calculation is the amount of tax balance due. However, the taxpayer must file the return within three years of the original return due date to get the refund."
"When it comes time to file the return, I recommend using the IRS's electronic filing option," Barger stated. "Most taxpayers take advantage of the convenience of filing electronically. Since e-file's 1990 inception, the IRS has processed over 1 billion individual tax return with success. Last year 77 percent of all individual taxpayers, 112 million people, used the e-file process. It's easy, efficient and effective. Taxpayers can also pay electronically. The IRS's electronic payment options are convenient, safe and secure methods for paying taxes. Taxpayers can authorize an electronic funds withdrawal, or use a credit or a debit card."
"Always double-check that the identification numbers, which are usually social security numbers, for each person listed on the return are correct. If the identification numbers are missing, incorrect, or illegible, this may delay or reduce a tax refund," Barger advised. "If filing Free File Fillable Forms, better known as a paper return, always double-check that the refund or balance due figures were calculated correctly. Also, be sure that the correct figure from the tax table filing status was used; when e-filing, the software does this automatically."
"All taxpayers must sign and date their return. If filing a joint return, both spouses must sign even if only one had income. Additionally, the paid tax preparer must also sign the return and include their Preparer Tax Identification Number," said Barger. "If mailing the return, be sure to send it to the correct address. Taxpayers can find the correct mailing address on the IRS's webpage."
For more information, please visit http://www.IRS.gov.
Barger has been in the tax services industry for over 13 years and has helped thousands of customers maneuver the complex rules of the Internal Revenue Service. He holds a finance degree from Marycrest International University in Davenport, Iowa. Barger is a certified official for men's and women's college volleyball and is a volunteer for The IRS Volunteer Income Tax Assistance Program (VITA). Barger is also a golfing and fishing enthusiast.
About Foundation Financial Group
Foundation Financial Group is a multibillion dollar financial services corporation. FFG offers its customers Best in Class service through its Insurance, Retirement, Mortgage, and Tax Services. Named one of the fastest growing financial companies in the country by INC magazine, FFG has continued to grow its nationwide presence with over 100,000 new customers per year in 38 states. In addition to the value that Foundation Financial provides every customer, it is also dedicated to its communities and the people who live in them. Through a vast array of philanthropic endeavors the company not only provides significant monetary donations but also fosters a workforce environment that encourages all team members to personally make a difference. Foundation Financial is committed to its strong focus on customer service and community investment as it continues to grow and compete with the largest financial institutions in the world.
Foundation Financial Group reviews all public relations inquiries. For additional information, interview and image requests, contact the Foundation Financial Group Public Relations team at 866-659-3200.