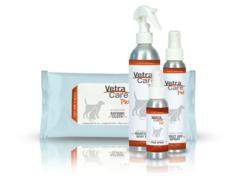 One of the most frequently abused claims is the highly sought after "all natural". Currently there is no accepted definition of what "all natural" means.
Nixa, MO (PRWEB) August 27, 2012
VetraCare Pet introduces a new philosophy for pet health products by only using FDA approved ingredients which are safe enough for use on humans, creating a better, safer and more effective solution to pet's skin health issues.
Pet products are regulated by the FDA, but many companies are guilty of making claims that they cannot support by their product or its FDA filing. Drugs used on pets are supposed to be registered, either by a new drug approval or by monograph, with the FDA. This registration not only lets us know that the drugs have a proven safety record, but also guides what label claims can be made.
Unfortunately, not all pet product manufacturers follow these rules and many products on the market today have no clinical evidence backing their claims and have never had those claims validated by the FDA. This little known fact makes it very difficult for pet owners to determine which products are really going to help their animals and which will cause more harm than good.
One of the most frequently abused claims is the highly sought after "all natural". Currently there is no accepted definition of what "all natural" means. Most believe that all natural signifies that no chemicals or chemical additives are used in the manufacturing or production. "On a recent trip to the pet store I read the listed ingredients of several products all claiming to be "all natural," said Roger Huckfeldt, MD, inventor of VetraCare. "While I expected a few of them to have chemical additives, I was surprised to note that all of them contained ingredients that are not naturally occurring," he said.
Ingredients, such as needed preservatives and thickeners, are not naturally occurring and have been added to provide appropriate shelf life and user characteristics. This does not make them bad products, just not all natural. Many active ingredients regarded as "all natural" are now synthesized in a laboratory rather than obtained from natural sources. Additives used by responsible manufacturers are also evaluated by the FDA and viewed as "generally regarded as safe" (GRAS) and should not be considered as problems.
All natural is not necessarily all better. Consumers should become accustomed to reading the labels of the products that they use on themselves and their pets. Ingredients should be evaluated and researched if necessary to ensure their safe use on animals and their ability to do what the label claims to do. As always, if you have questions, contact your veterinarian for advice.
Healthy Brands for Life manufactures products for humans and pets. The VetraCare line was created to provide skin care and first aid for horses, dogs and cats. The formulas used to create the products are all built to human standards and follow FDA regulations for ingredients and manufacturing processes. The VetraCare products include topical skin cleansers and antimicrobial agents designed to effectively clean and protect your pet's skin and wounds without painful irritation or skin damaging ingredients. Clinical data for each product was obtained by Internal Review Board approved studies on humans and is available to support any and all claims made for VetraCare products.