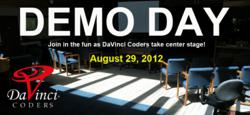 Ruby on Rails is a Full Immersion 11 Week Program designed for motivated, passionate individuals who want to reboot their life and learn the very popular Ruby on Rails programming language.
Louisville, CO (PRWEB) August 27, 2012
D-Day is here! Demo Day that is. Unlike traditional graduations, students completing the inaugural class of DaVinci Coders will center stage in their grand finale', Demo Day, on Wednesday, Aug 29 from 6:00pm-8:00pm at the DaVinci Institute, 511 E. South Boulder Rd, Louisville, CO.
"The end of the DaVinci Coders class in no way means the end for these amazingly talented students," says Thomas Frey, Executive Director of the DaVinci Institute. "In the same way a diploma doesn't make you an expert, the process of learning never really stops. Rather, it better frames the road and possibilities that lie before them."
DaVinci Coders is an 11-week, full-immersion program designed for motivated, passionate individuals who want to reboot their life and enter the field of computer programming. The inaugural class was trained in the hugely popular Ruby on Rails, a language well-suited for beginners and used by all the major tech companies.
For Demo Day, each student will give a brief demonstration of what they learned in their 11-week, full immersion Ruby on Rails class.
Light appetizers, drinks, and networking are also on the docket for this event. The after party will continue at Ralphies Sports Tavern next door.
The next classes for DaVinci Coders will start on September 24 with two separate tracks – Ruby on Rails and HTML5/JavaScript. DaVinci Coders is looking for other remarkable people to be a part of this life changing opportunity. Applications are currently being accepted.
For more information, or to schedule an interview about DaVinci Coders or the DaVinci Institute, please visit http://www.davincicoders.com or http://www.davinciinstitute.com or contact Deb Frey, Public Relations Director for DaVinci Institute at 303.666.4133 or e-mail Deb(at)davinciinstitute(dot)com.
About the DaVinci Institute
The DaVinci Institute is a Futurist Think Tank based in Louisville, Colorado. The Institute goes beyond the traditional role of a think tank, serving as a working laboratory for the future by assisting revolutionary thinking inventors and entrepreneur by helping them get their ideas off the ground.
The DaVinci Institute was founded on the simple notion that the future is mankind's to create. As a community of bright and articulate people wanting to make a difference in the world, its primary goal is to devise more efficient ways to build a better future.
The DaVinci Institute is a 501-c-3 non-profit organization supported by memberships, sponsorships and attendance fees for the programs we produce. For more information about the DaVinci Institute go to http://www.davinciinstitute.com