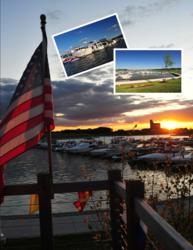 Ottawa, IL (PRWEB) August 28, 2012
Everyone dreams of having their own private vacation spot. But once the investment is made, many people wonder how to get the most out of that dream home? A recent trend is picking up in the U.S. that solves that problem. Many are finding vacation spots that feel worlds away from the stresses of home, but they are really within a few hours of the front door.
Anyone thinking about a vacation home isn't alone. And reports show there may be no better time to find one than right now. According to the Washington Times, lower housing prices are currently making homes affordable that may have been just out of your reach even a few short years ago.
The National Association of Realtors' 2012 Investment and Vacation Home Buyers Survey shows a jump in sales of investment and vacation homes last year. The combined market share has risen to its highest level since 2005.
The trend is hitting its stride at Heritage Harbor in Ottawa, Ill.. The resort— with its elegant homes and cottages — sits on prime scenic Illinois River waterfront property and offers amenities such as a full-service marina with more than 450 boat slips, restaurant on-site, low-maintenance homes, in-ground pool, walking path and year-round activities.
Heritage Harbor has noticed the trend that people are looking to stay closer to home with their vacation homes. Within 90 minutes from Chicago homeowners can have their private spot at Heritage Harbor and still be just a few miles from Starved Rock State Park. The setting gives people the faraway feel without the drive or flight.
With easy access location to a vacation home, homeowners find a relaxing vacation, but can easily pop back home to take care of pressing business. With a vacation home just a simple two hours away from their primary residence, it's easier to get more use out of the investment. Homeowners can swing into the harbor for a long weekend, a week or maybe even just for a holiday. Heritage Harbor Ottawa employees hear it all the time: Why would I make the investment and only be able to spend one or two weekends a year at my vacation home? The simple answer is: You don't have to.
If for some reason someone needs to make the short drive back into the real world, they have the option. Savvy vacationers can forget about those long waits at the airport or making sure to cram enough time into their vacation home. It's meant to be enjoyed, so many are creating ways to enjoy it, longterm.
For more information, to schedule a tour of a Heritage Harbor waterfront home or for directions to the resort community, contact Tammy Barry at 815-433-5000.