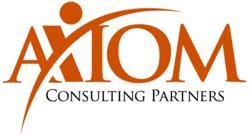 Axiom President Speaking at WorldatWork's 2012 Spotlight on Sales Compensation Conference in Chicago, August 31
Chicago, IL (PRWEB) August 28, 2012
Axiom Consulting Partners president Garrett Sheridan will be speaking at the WorldatWork 2012 Spotlight on Sales Compensation, Friday, August 31, in Chicago. An expert in sales force design and improving sales force effectiveness, Sheridan will explain how human resources and sales can work together to attract, retain and reward the right sales talent.
In an article in the August 2012 issue of workspan magazine Sheridan and co-author James Killian of the Chally Group make the case that helping sales leaders is one of the most valuable services a human resources department can provide. Sheridan will discuss five specific steps HR can take to strengthen its partnership with the sales team.
WorldatWork (http://www.worldatwork.org) is a not-for-profit organization for providing education, conferences and research focused on global human resources issues. Information about the 2012 Spotlight on Sales Compensation is available here.
About Axiom Consulting Partners
Axiom Consulting Partners works side-by-side with leaders to deliver pragmatic solutions that drive results. Our services help clients clarify strategy, focus on the highest priority sources of value and align their capabilities, processes and people to deliver sustainable, profitable growth. We always look at a client's challenges through the lenses of business strategy, organization design and talent management – it's why they choose us over firms that operate in just one of these disciplines.
Learn more at http://www.axiomcp.com.