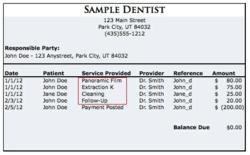 (PRWEB) August 27, 2012
Zane Benefits, the leader in comprehensive defined contribution health benefits for business, today published information regarding HRA claim documentation. The Zane Benefits Claims Department addressed a frequently asked question regarding what documentation is required to submit HRA claims.
To maintain compliance, an HRA plan must adhere to the IRS rules for valid documentation. This guide outlines the HRA claim documentation that a compliant HRA Claims Processing Department requires for approval. To receive tax-free reimbursement from an HRA, the IRS requires an HRA participant to submit documentation showing the following specific items:
(1) Provider Name
(2) Date of Service
(3) Recipient of Service
(4) Services Provided (CPT Codes, description of the service performed)
(5) Amount Paid
For specific information about each of these requirements, view the full article: HRA Claim Documentation Requirements
Items to remember about HRA Documentation:

Documentation must include all 5 IRS requirements, in order to be approved and reimbursed through an HRA.*
If one piece of documentation does not satisfy all requirements, you can submit multiple forms of documentation.
One piece of documentation might require you to submit multiple HRA claims.
*Note: Not every provider receipt contains this information, so be sure to ask the provider for an invoice with these five IRS requirements.
About Zane Benefits, Inc.
Zane Benefits, Inc, a software company, helps insurance brokers, accountants, and employers take advantage of new defined contribution health benefits and private exchanges via its proprietary SaaS online health benefits software. Zane Benefits does not sell insurance. Using Zane's platform, insurance professionals and accountants offer their clients a defined contribution plan with multiple individual health insurance options via a private health exchange of their choice.