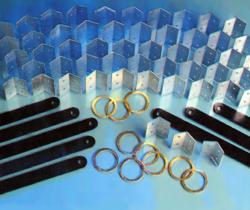 Dallas, TX (PRWEB) August 28, 2012
In mid-August of this year AFT Fasteners added Illini Metal Works of Illinois to its holdings to become AFT Manufacturing. With the addition of this new partnership, AFT Fasteners now includes the ability of high quality sheet metal fabrication, stamping and forming. With a thorough knowledge of metal forming, aluminum and steel to stainless and alloy, AFT Manufacturing will be able to produce the highest quality products in the quickest possible turn-around time. Their skilled craftsmen employ specialized equipment to produce everything from single custom orders to high volume runs. AFT Manufacturing will be capable of producing precision fabrication of complex components to larger orders of super-sized products.
AFT Manufacturing believes in the philosophy of starting projects with professional engineering and design. Before any project begins there is a great deal of planning. Working from customers' prints or their own professionally engineered designs, AFT Manufacturing helps customers with all of the production logistics. They also specialize in sheet metal fabrication which includes: stamping, cutting, welding, forming, shearing, finishing, painting, heat treating, sub assembly and final assembly. AFT Manufacturing is efficient at short run prototype runs or large quantity production runs.
AFT Manufacturing is part of a metal fabrication, stamping, manufacturing, importing, distribution, plating and industrial services company "All-in-One", offering turn-key cost effective solutions to our customers. AFT also can supply high-quality standard, non-standard and specialty fasteners and hardware products. AFT serves customers with sales and distribution centers throughout the United States, so this allows them to provide expedited service and products . Please email AFT's professional sales staff at info(at)aft-corp(dot)com or call (877) 844-8595 for information on how AFT Manufacturing can provide companies with high quality metal fabrication, stamping and finishing.