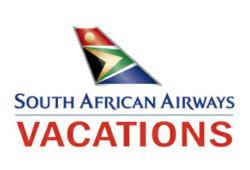 SAA Vacations has created this package so that travelers may have a truly unforgettable and transformational experience...at an especially low price for a limited time. - Terry von Guilleaume
Ft. Lauderdale, FL (PRWEB) August 27, 2012
South African Airways Vacations® (SAAV) is showcasing its ultimate 14-day Kenya vacation package featuring four separate safari experiences plus a beach escape starting at $3,899* per person (restrictions apply) - an $800 per person savings off of the regular price if booked by Sep. 14th. The "Kenya Safari and Sand" package will leave travelers transformed from their experiences at the luxurious properties featured.
The package includes safari stays at four lodges in three different world-renowned game reserves: the Masai Mara Sopa Lodge, the Lake Naivasha Sopa Resort, the Amboseli Sopa Lodge, and the Ngutuni Lodge. The breath-taking sights don't end there, as the vacation continues and concludes at the relaxing and luxurious Papillon Lagoon Reef at Diani Beach, overlooking what is known as Kenya's most beautiful coastline. The package also includes international and regional flights on Africa's most awarded airline, South African Airways, which offers convenient service to Nairobi, Kenya. To reserve your next trip and take advantage of this special low price for the "Kenya Safari and Sand" package, contact SAA Vacations® by calling 855-FLY-SAAV, visit http://www.flysaavacations.com/kenya-travel/kenya-safari-and-sand/ or contact your travel agent before Sep. 14th.
"Experiencing Kenya is not just about the beautiful landscape and wildlife, but it also connects your soul to the roots of life and the passage of time," said Terry von Guilleaume, president of SAA Vacations®. "SAA Vacations has created this package so that travelers may have a truly unforgettable and transformational experience, encouraging you to return time and time again. We're pleased to offer this vacation opportunity at an especially low price for a limited time."
SAA Vacations® "Kenya Safari and Sand" Package Includes:

Round-trip international and regional airfare on South African Airways, Africa's most awarded airline
Stays at the Masai Mara Sopa Lodge, the Lake Naivasha Sopa Resort, the Amboseli Sopa Lodge, and the Ngutuni Lodge
All safari activities as per the itinerary
Stay at the Papillon Lagoon Reef at Diani Beach on the Kenyan coast
Meals as per the itinerary
Transfers, English-speaking guides and meet and greet by professional SAA Vacations staff
To discover more SAA Vacations® packages to Southern and East Africa, visit http://www.flysaavacations.com/.
About SAA Vacations®
A division of South African Airways (SAA), the national airline of South Africa and Africa's most awarded airline, SAA Vacations® is highly regarded for its wide array of affordable luxury packages to Africa, and utilizes SAA's extensive route network to create packages for travel throughout South Africa, Botswana, Victoria Falls, Namibia, Mozambique, Zambia, and Zimbabwe, as well as East Africa. The program is managed and fulfilled by Destination Southern Africa (DSA), which was founded in 2001 and offers an extensive portfolio of tour programs with a variety of hotels, game lodges and safari companies throughout Southern Africa. DSA was one of three tour operators in the U.S. that was officially appointed by MATCH to develop and sell travel packages for soccer fans visiting South Africa for the FIFA 2010 World Cup, making it a partner with extensive knowledge and know-how in planning the perfect African vacation.
# # #
Terms
Price is per person based on required double occupancy. Valid as of August 15, 2012 for departures from New York or Washington, D.C. between Jan 15 – March 31, 2013 with the same itinerary available at higher prices during other travel periods. Reservations must be made by 14 September, 2012. Price for other departure cities and/or travel dates may vary. Subject to availability and currency exchange rate fluctuations. Prices are valid for new bookings only, are not retroactive and may change without notice. Baggage and optional service fees, cancellation charges and other restrictions may apply.