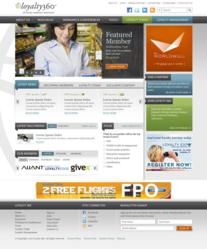 "The Indaba team was a pleasure to work with, since the launch of Loyalty360.org and Engagementexpo.com we've seen positive reactions across both sites such as increased web traffic and users staying on the site longer."
Mark Johnson, President
Denver, CO (PRWEB) August 29, 2012
Loyalty 360 approached Indaba to redesign their previous loyalty marketing website, along with a redesign of the enagement and loyalty expo sites, as well as an introduction to a new European content based website. Indaba kicked off the project with a two day, in-depth discovery process that included looking at the current data, content, and usability landscape, and ultimately coming up with a solution that created a better experience for finding relevant content within specific loyalty topics. The Indaba team also left the meetings armed with new ways to make the data more accessible and usable to the current subscriber database, a plan for a restructured admin back-end, and a fresh, new, modern look.
The new and improved Resources section combined content that had previously been living in various parts of the site, making it hard to search and find content in just one area. With the new approach to the Resources section, users can now easily search by loyalty and engagement topics, and view relevant content within a particular section sorted by news, research, reports, articles, blogs and multimedia - all in one place. Each article or content piece also has an area to display multiple related content links, across multiple content types.
In addition to the main site, the Engagement Expo and Loyalty Expo sites received full makeovers, including look as well as functionality. Engagement Expo was the first to receive the new look, and potential attendees are now able to fully register on the new site for their respective sessions. Indaba also addd in new functionality to allow for discounted rates based on time remaining leading up to the date of the conference.
With the revised content structure, members can now seamlessly search content and keep up to date on expo events across the family of Loyalty 360 websites.

Indaba Group is an award-winning agency, providing customers with complete Magento eCommerce solutions, including discovery, design and custom website development. Leveraging their industry leading team of professionals that specialize in all facets of running a eCommerce business. Indaba offers In-Commerce - a complete solution to selling products online. Offices are located in Denver, Colorado, with a sister office in Lymington, England.