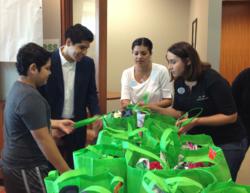 For many of these children something as simple as new clothes and shoes make all the difference in the world
San Antonio, TX (PRWEB) August 29, 2012
Generations Federal Credit Union partnered with San Antonio City Councilman Rey Saldana for the inaugural campaign, Suit Up For Success. The event provided clothing, shoes and backpacks to 60 economically disadvantaged children within Saldana's District 4. The Credit Union's Southside branch spearheaded the initiative within the community.
Throughout the month of August, Generations called on its staff and members to donate to the campaign. The money raised from the campaign was used to buy a week's worth of clothing and shoes, and Councilman Saldana donated backpacks for all the students.
The shoes and clothing were delivered during an event at the Credit Union's Southside location on Friday, August 24. Generations provided breakfast for all the students and their families. Councilman Saldana and Generations staffers were on hand to pass out the supplies.
"A solid foundation for any student begins with the proper tools. It's important not to forget that for many of these children new clothes and shoes can make all the difference in the world," said Generations Federal Credit Union Yarrow Branch Team Lead, Yvette Castillo. "It was gratifying to see the hope and the joy in the kid's faces when they received their new clothes, and to know that we are making a difference in their lives and in their futures."
Generations Federal Credit Union was founded in 1940 and has a rich history of serving all who live, work, worship, volunteer or attend school in Bexar County with its "people helping people" approach. The credit union has been recognized locally, regionally and nationally for innovative, award-winning services that reach out to everyone in our great community as they work toward their financial goals.