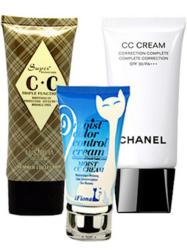 why just cover your skin with a BB cream when you can nurture it with a CC cream for flawless skin
New York, NY (PRWEB) August 28, 2012
BeautyStat.com -- the leading online beauty community for skincare reviews and makeup reviews -- loves finding out the latest and greatest in skincare and cosmetics from all around the world, so, we were more than excited to let our readers learn about the newest Asian addition to the BB cream craze: CC creams (color control creams)! As the BB cream has made its way stateside, it seems that there is more to expect with these CC creams, promising to be less oily; matching skin tone better; lighter in texture; providing better brightening results and better coverage than its BB counterpart. The best CC cream out there being the Rachel K Cosmetics CC cream, which is a mineral-based blemish balm that is long-lasting and provides better whitening effects. Coming in both a liquid and powder form, this brand prides itself in using the best hydrating botanical ingredients including white tea, deep sea water and natural vitamin E; the CC cream being ideal for all skin types and ages.
BeautyStat has featured this latest Asian cosmetic/skincare hybrid in a recent article, also mentioning the Western brands the site has reviewed who have taken their shot at creating their own BB cream such as Bobbi Brown, L'Oréal, Maybelline, Stila and more! The CC cream, also further developed in Korea much like the BB cream, is already making an impact in Asia. BeautyStat's resident biotechnologist and cosmetic researcher, Rinki Pramanik, explains the main difference between the two creams, "Generally a BB cream is like a foundation-type tinted moisturizer, but a CC cream is more effective on improving skin health to evenly tone the skin's appearance," says Pramanik. "So, why just cover your skin with a BB cream when you can nurture it with a CC cream for flawless skin."
BeautyStat.com (a NYC tech startup) is an online beauty community and social marketing agency for the beauty industry. It has been featured in Womens Wear Daily, New York Times, Forbes Magazine, NBC and CBS News. The strength of BeautyStat.com is its captive, engaged and influential 100,000+ community, 190+ blogger network and 40 million social network reach. BeautyStat.com works with beauty brands, retailers and PR agencies to connect them to the BeautyStat community for online PR events, advertising and rich consumer insights.
BeautyStat.com was founded by beauty entrepreneur Ron Robinson. Ron is a veteran cosmetic chemist who has worked for such leading beauty companies as The Estée Lauder Companies, L'Oreal, Avon Products and Revlon Products. Ron is currently a resident beauty expert for Allure magazine.