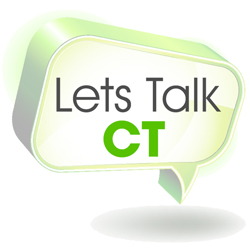 Wallingford, CT (PRWEB) August 28, 2012
Experts on virtually any topic regarding the state of Connecticut now have a hub where their expertise can be valued by readers across the globe. Let's Talk CT, a new information resource dedicated to sharing information about local topics written by local writers, was recently launched in order to promote and grow local businesses and help residents find helpful information that will benefit their lives.
Local experts can now share their knowledge on a variety of topics, from Connecticut news to local business, housing, entertainment, and other various issues, and gives local professionals and business owners the opportunity to showcase their knowledge about a particular field or area of expertise. Let's Talk CT strives to meet a growing demand for content centered around a local perspective, in contrast to the wealth of general information already available on the web.
With social media growing at an accelerated pace every day, Let's Talk CT makes it easy for readers to share information among the leading social networks. The site includes articles written by Connecticut residents relating to social media, and readers can learn more about the role social media plays in day-to-day lives. This is important to readers as the prominence of digital social networks grows and expands into new areas of our lives that were not thought possible in the past. Let's Talk CT helps readers make the most of their online experience by offering content that is tailored to the local community, and is relevant to the residents of Connecticut.
Each week, Let's Talk CT puts another local business in the Company Spotlight. The Company Spotlight features new and established local businesses and helps generate a healthy buzz surrounding the featured company. When a business is featured in the Company Spotlight, their logo appears on the page is proudly displayed alongside an article about who they are and how they benefit the Connecticut community. This week's featured companies are McCue Mortgage and Petruzelo Insurance, both Connecticut-based businesses.
Like article marketing websites of all types, Let's Talk CT has stringent guidelines. All articles are reviewed before publication, and while promoting a business is always welcome, the tone must not reflect that of a press release or advertisement and, instead, should be informational. Aside from talking about a business or unique facet of Connecticut, the site additionally lets writers include links, allowing visitors to travel to the original information source. Specific topic areas allow the writer to conveniently classify articles: "Around the State," "Business," "Entertainment," "Food and Drink," "Homes," and "Social Media."
Let's Talk CT currently has more than 70 articles on site and is continuing to grow. Anyone is welcome to submit their articles to Let's Talk CT; however, the articles are vetted for clarity and consistency ensuring the best reading experience possible for visitors of the site.