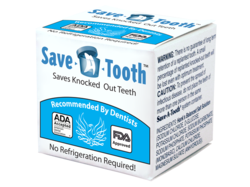 51 million school hours are lost each year due to oral health issues including knocked out teeth
Wayne, Pa (PRWEB) August 28, 2012
There are over five million teeth knocked out each year in the United States and Canada and many of them are knocked out in the school area. Over 90% of them can be reimplanted and saved for life if the schools are prepared with a device called the Save-A-Tooth® system. The system is inexpensive and can be purchased online, through school distributors and in the Complete First Aid kit.
According to Oral Health Connections, school nurses report students seek their help for a wide range of oral health issues including dental caries, tooth and oral pain, jaw abscesses, orthodontic concerns, and problems with oral piercings. Forty percent of school nurses report they encounter students who avoid smiling or laughing because of oral health problems.
When a tooth is knocked out, it must be placed in a protective, nutritive environment within sixty minutes of the accident or else the delicate tooth root cells will die and the reimplanted tooth will be rejected by the body. Only the Save-A-Tooth® system provides this special protection and rejuvenation. This system, the only system of its kind, has the American Dental Seal of Acceptance and is recommended by most leading medical and dental organizations.
"The loss of 51 million school hours a year is devastating to our school children and anything that can be done to prevent this should be done, says Dr. Paul Krasner, Professor of Dentistry at Temple University School of Dentistry. "Missing teeth during the volatile school years can be psychologically devastating," he continues.
"We all realize that school budgets are tight," says Dr. Henry Rankow, Professor of Dentistry at Temple University School of Dentistry, "but there are some expenses that must be made in order to protect the dental health of school age children. The loss of a knocked out tooth is a lifetime problem in addition to being a social stigma. Lost knocked out teeth are different from broken bones. A broken bone heals with no repercussions but a lost knocked out tooth is lost for life," he adds.
The Save-A-Tooth® system contains a special medical fluid that preserves knocked out teeth for 24 hours. It also has a special suspension and retrieval basket and net that protects the tooth root cells from damage.
Dr. Krasner recommends that all schools should have Save-A-Tooth's in their emergency supplies and train their school staff in how to use them in case the school nurse is not present at the time of the accident.
About the company:
Phoenix-Lazerus, Inc. manufactures and distributes the Save-A-Tooth® system, the Complete Sports First aid kit, the Complete Dental First aid kit and the Complete First Aid kit. It has been in business since 2001 and is dedicated to producing products completely made in the USA with 100% USA-made parts. It is also the tooth transportation system in the Store-A-Tooth system, the leading transporter and cryogenic storage system for dental stem cells.