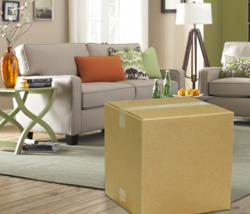 You can't tell the difference between our 'Evolution Technology' sofas and the factory assembled sofas.
Lexington, AL (PRWEB) August 29, 2012
Tennessee native, Billy Joe Griggs, has just cracked one of the biggest puzzles in the furniture business. A new manufacturing and shipping method for sofas promises to save consumers and companies potentially millions, without compromising quality.
With growing shipping costs due to rising energy prices, companies are vying to find more efficient ways of shipping their products across the globe. Griggs has spent the last year perfecting various ways of assembling and shipping sofas, and what he has created has the whole industry abuzz. The methodically built sofas, with the dubbed "Evolution Technology," require no tools to assemble and can be shipped anywhere in the United States with no freight cost.
Griggs said, "Not only is there no quality loss with our new method, but there is actually a quality gain. You can't tell the difference between our 'Evolution Technology' sofas and the factory assembled sofas." Griggs and his company are so confident in their new product that they have issued a $1000 challenge to anyone who tell the difference between their new ready-to-assemble sofas and the traditional sofa merely by lounging on them.
"A lot of people are going to think we are only offering low end sofas with this idea, but that's not true. You have traditionally lost a lot of quality when going to ready-to-assemble, but with us we're actually able to offer luxury sofas and economy class sofas…and the best part is that you can't tell the difference between this and the traditional luxury sofa," Griggs said.
The couches have modular IKEA-like designs that enable customers to customize their couches, but quality is never called into question like prior ready-to-assemble models. "The great thing about ready-to-assemble is that you can carry a boxed sofa upstairs without risking injury or damaging your furniture or even your house. You can assemble it in compact places like a college dorm, a studio apartment. Really the possibilities are endless," Griggs stated.
Griggs's idea doesn't stop with improved quality and mobility for customers. Manufacturers and furniture stores too will feel the benefits. Traditional sofas generally fit approximately 45 couches on a trailer, the traditional ready-to-assemble sofa only up that number to around 57, but with 'Evolution Technology' they can fit an astounding 144 sofas in a single trailer. This opens up Griggs's idea to save millions in shipping costs and fuel emissions.
The sofa design has caught the eye of some big box retailers and manufacturers which are planning to launch the patented idea in their stores later this year.