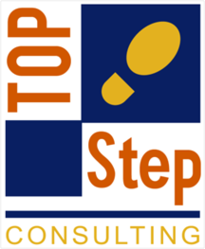 …had TOP Step not been involved, Resource would not have hit our aggressive launch date for the new Professional Services Automation system. Or, at the very least have only been 70% up and running."
South Riding, VA (PRWEB) August 29, 2012
Making a change in the systems you use for operating your business can be intense. TOP Step Consulting used their years of experience and well-tuned methodology to guide Resource through the process of implementing a new Professional Services Automation system without interruption to their business operations.
Recently TOP Step Consulting worked closely with Resource to develop solutions for using their new PSA system. Resource had been operating using a variety of systems including spreadsheets, homegrown systems, and commercial systems none of which were integrated. Executive directors from the company's technology and operations area were tasked with finding and implementing a professional services automation system that would support how they managed their operations, and could help facilitate and improve delivery of services to their customers. This was no easy task and Resource needed an expert to guide their efforts. "Because we always try to live in our client's shoes, it was such a relief to find a company that would do the same for us." says Drew Sheppard, Executive Director of Operations. Sheppard estimates that had TOP Step not been involved, Resource would not have hit their aggressive launch date for the new PSA system. Or, at the very least have only been 70% up and running.
"We couldn't go live partially," says Sheppard. "It was all or nothing. We locked the door behind us and said we can come out when we are done. TOP Step locked themselves inside with us and became a critical part of our team. They worked to find solutions for using our new PSA system, NetSuite OpenAir, which we would not have found if we had attempted to do this without them. They have a very honest, unbiased focus on how they work with a client, and because they came in at the beginning of our journey, it helped them to know how to guide us."
TOP Step's guidance didn't end when the switch was turned on and the spreadsheets replaced. The team was tasked with enabling immediate productivity with the new system. They provided a three-pronged training approach for Resource's PM/Ops personnel, creative/technical/strategic staff, and financial staff – who were still preparing financials based upon the previous year's spreadsheet data. Each training session was unique to the staff's needs.
The results were immediate. One of the benefits from a successful system adoption was real-time visibility. This allows Resource to improve their responsiveness to the needs of their clients and provide the ultimate customer experience - not just on what they create and implement, but for all the supporting activities and transactions on financial and administrative levels. "We are effectively handling 300 projects at a time now," says Sheppard. With TOP Step's help, this changeover was a culmination of an interactive effort to make all of the new system's resources available to our staff. TOP Step's expertise in guiding us through this journey and helping us avoid mistakes that would have set us behind, was one that was appreciated by our entire team at Resource, and well worth the investment."
About TOP Step Consulting
TOP Step Consulting improves business efficiency and productivity for Professional Services businesses. TOP Step Consulting is a leading expert in professional services automation with extensive experience in PS business operations specializing in complex global operations. They provide advisory, implementation and outsourced administration services to world-class professional services organizations of all sizes. Their goal is to streamline operations, helping clients achieve their profitability goals so they can focus on growing their business.
About Resource
As one of the nation's top-rated marketing agencies, Resource helps Fortune 500 companies in retail, consumer goods and technology sectors succeed and stand out in the global digital economy. Led by consumer insights, Resource combines compelling consumer experiences with innovative commerce solutions and groundbreaking technology to move thier clients toward today's end game: Connected Commerce Experiences. With CCE, Resource drives revenue at every brand touchpoint, creating memorable "shopportunities" and accelerating a consumer's path from discovery to purchase.