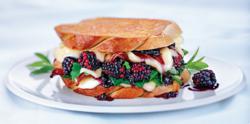 (PRWEB) August 28, 2012
The results are in, and the winner is…Wisconsin Cheese! The Grilled Cheese Academy has released a free recipe e-book featuring the winners of the 2012 Grilled Cheese Recipe Contest. Contestants from around the country submitted their takes on the ultimate grilled cheese sandwich made with Wisconsin Cheese, and the winning combinations are simply mouthwatering.
Nine winning recipes are featured in the e-book, including "The Bewitching" by Ally Phillips of Murrells Inlet, S.C., which took the gold prize. This creative concoction features fresh blackberries, peppery greens, crispy fried bacon, and Wisconsin Provolone and Gouda. Silver prize winners are "The State Fair," an ode to Midwestern flavors with Wisconsin Sharp Cheddar, and "The Low Country," inspired by the traditional southern Low Country Boil with Wisconsin Gruyère. Six bronze prize winners are also featured.
In addition, the e-book includes 10 classic recipes from the original Grilled Cheese Academy collection. To download the e-book and find even more grilled cheese recipes, visit GrilledCheeseAcademy.com.
For more information about Wisconsin Cheese, visit EatWisconsinCheese.com.