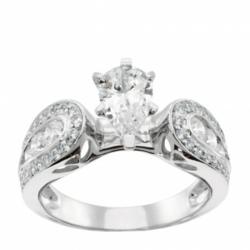 These ads are all about happiness. All we wanted to show was two people in love - simple, beautiful and forever
(PRWEB) August 27, 2012
"The "I Choose Diamond Nexus" Campaign was launched in July 2012. We are really excited to also showcase these new ads that go along with the vision of the whole project," commented Meg Strobel, Co-Producer.
"These ads are all about happiness. All we wanted to show was two people in love - simple, beautiful and forever. Diamond Nexus feels that jewelry is not just an accessory in a relationship - it is a symbol of those things. The best way to show that is not usually with shots of our beautiful jewelry - it's with smiling human faces," commented Christopher Foley, Producer, Director and Editor.
The shoot was filmed on location at Lakeside Park in Fond du Lac using actors, Nick Freund and Heather Roberts. Director of Photography Jesse Stenbroten from Pear Media was behind the camera. He can be contacted at this link: http://www.thepeardream.com
"We purposely created a non-intrusive shooting environment - small camera, small crew, natural light - so Nick and Heather could just be themselves. They are an actual couple and the way they feel about each other speaks for itself in the footage. We didn't want to mess with that or manipulate it - just capture it," stated Foley.
"As with any shoot, it was a team effort. Jesse has a great eye and Meg was behind all of the design elements - from the wardrobe to props and, of course, picking out the ideal Diamond Nexus pieces. She also is terrific on set and helped us get the most out of Nick and Heather."
Incorporating the song "The Deepest Part" by Psychic Twin, gave the ads an upbeat and whimsical feel. Meg chose the wedding dress and hairpiece from bridal boutique Miss Ruby while adding the groom's boutineer from Milwaukee business A New Bloom. She also contracted local artist Jodi Schomaker of http://www.jodischomaker.com for the art design.
Featured jewelry used in the ads are the Ingrid with Pear, Ice Goddess, Hawthorne, Silhouette and Asteria. All of the jewelry shown is available at http://www.diamondnexus.com.
Diamond Nexus was founded in 2004 with the purpose of bringing to the public the powerful benefits of the lab-created diamond simulant revolution. They have over 250,000 customers worldwide that have awarded them an "A+" rating with the BBB, and are the ninth largest online jewelry retailer in America according to the 2011 IR500 list. For two years in a row brides from The Knot have selected them as their Best of Jeweler. Diamond Nexus currently has two retail locations: their flagship store at Woodfield Mall in suburban Chicago, Illinois, and a second store at Mayfair Mall in Milwaukee, Wisconsin. In 2009 the company was named the official jeweler and crown maker of the Miss Universe Organization as part of NBC/Universal's "Green is Universal" environmental initiative.