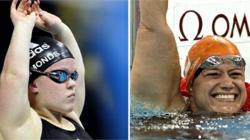 She's my main rival. She's always hot on it, and I think she's the one to watch in London
(PRWEB) August 27, 2012
Swimming superstar Ellie Simmonds is the poster girl of the 2012 Paralympics - but she has two rivals determined to knock the 17-year-old off her pedestal.
Mirjam de Koning-Peper is 25 years older than her British rival but represents the main threat to Simmonds over the short sprints.
The Dutchwoman pipped Simmonds by 0.14 seconds in the 100m freestyle at last year's European Championships where she also won the 50m, leaving Simmonds in third.
De Koning-Peper will defend her 50m title in London, while Simmonds will look to repeat her 100m win.
"She's my main rival," Simmonds conceded. "She's always hot on it, and I think she's the one to watch in London."
But Simmonds was speaking before fellow teenager Victoria Arlen, a 17-year-old American, broke the Brit's world record in the 400 free in June.
It should all add up to the women's S6 freestyle producing some of the most explosive races at London 2012.
For all your latest news ahead of the 2012 Paralympics, follow @C4Paralympics on Twitter and like the C4Paralympics Facebook page