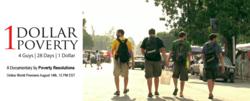 Doylestown, PA (PRWEB) August 28, 2012
In May 2010, following the earthquake that devastated Port-au-Prince, Haiti, four American men made a promise to truly experience poverty in hopes of understanding how best to combat it. 1 Dollar Poverty, released earlier this month, follows them as they live alongside Haitians in a tent city in Port-au-Prince for 28 days. In order to experience life as an average Haitian, the men live on one dollar a day per person for food, supplies and drinking water.
Watch the video here:
http://www.youtube.com/watch?v=VGeFpz10baw
Inspiration for the trip to Haiti was drawn in part from the work of Invisible Children. Their first documentary, Invisible Children: The Rough Cut, aimed to spread awareness about the use of child soldiers by the Lord's Resistance Army in Uganda.
Similarly, the goal of 1 Dollar Poverty is to educate Americans to increase awareness of global poverty and to inspire them to take action. The film was produced by Poverty Resolutions, a nonprofit organization founded by Matt and Andrew Jones.
Since 2010, the organization has carried out sustainable development projects in Haiti and delivered educational presentations to thousands of students in the US. Matt and Andrew envision film as a powerful tool in support of their educational mission.
Poverty Resolutions, Inc. is a 501(c)(3) nonprofit organization located in Doylestown, PA. To learn more, visit http://www.povertyresolutions.org.
Poverty Resolutions' website was recently developed by web design and marketing agency FocusMX to better enable the nonprofit to spread their message. The site now boasts an appealing quality that strives to effectively impart the nonprofit's news and information.