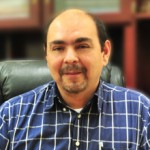 We are confident that Dr. Zelaya will undertake innovative projects to streamline the Zamorano educational experience.
Tegucigalpa, Honduras (PRWEB) August 28, 2012
Leading agricultural university, Zamorano, is pleased announce its Board of Trustees has chosen a new Academic Dean. Dr. Raúl Hernán Zelaya was unanimously chosen following an extensive, transparent, and impartial process.
Dr. Zelaya has worked for many aid organizations including Canadian Cooperation and World Neighbors, and in academic institutions including the Universidad Pedagógica Nacional de Honduras and Zamorano. He currently works at Zamorano as interim Director of Institutional Advancement and also as Director of Institutional Effectiveness. He is also Adjunct Professor in Zamorano's Department of Environment and Development.
A Zamorano graduate in 1981, Dr. Raúl Zelaya has a PhD in Education, Agriculture and Extension from Cornell University (1993-97). He has two Masters Degrees, including an MSc in Agricultural Education from the University of Kansas (1986-87) and a MSc in Agriculture from the University of Florida (1984-85).
"We are pleased with the appointment of Dr. Zelaya as Academic Dean," said Dr Alison Stone, Chair of the Zamorano Board of Trustees. "He is a Zamorano graduate who knows the institution very well, having been involved in the preparation of the University's Strategic Plan. He is also highly knowledgeable about the University's academic program, which will now be his area of Influence. We are confident that Dr. Zelaya will undertake innovative projects to streamline the Zamorano educational experience, while always taking into account the institution's four pillars, reinforcing the Learning by Doing program and maintaining the University's Academic Excellence."
"Agriculture is and will be of great importance to the world," said Dr. Zelaya, Academic Dean. "It is a cutting-edge profession and there will always be more and more people to feed. Zamorano will never lose its way and it can now consider creating new careers and introducing new or different areas of specialization within them. Now is the time to venture into other fields."
About Zamorano University
Zamorano is an international agricultural university serving Latin America. Based in Honduras, Zamorano teaches the responsible management of natural resources, rural development and global competitiveness. Established in 1942, its unique programs combine solid academic teaching with practical knowledge and experience creating well-rounded graduates. With alumni from 29 different countries, Zamorano offers comprehensive tertiary education and world-class research in agriculture. For more information, visit http://www.zamorano.edu