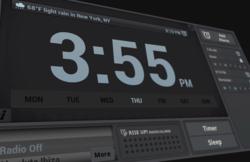 Rise Up! Radio/Alarm's interactive game ensures that even the groggiest sleepers won't be able to hit the snooze button and fall back to sleep.
London, UK (PRWEB) August 29, 2012
Rise Up! Radio/Alarm harnesses extensive sleep research to give app users the ultimate sleep experience from the moment they go to bed till they wake in the morning. Users can fall asleep to white noise or binaural beats, sounds that can induce a relaxed meditative state. In the morning, users who find it difficult to stay away from the snooze button will be helped out of bed by the app's interactive game.
Mark White, of app design company Apps on Fire, designed Rise Up! Radio/Alarm after struggling to get up on time for work himself. He said: "I read through the latest research on sleep and found that you can measure somebody's sleep inertia – their levels of grogginess in the morning – by testing their reaction times.
"Rise Up! Radio/Alarm's interactive reaction game ensures that even the groggiest sleepers won't be able to hit the snooze button and fall back to sleep as you would with most sleep apps and alarm clocks. Instead, they have to reach a certain level of wakefulness before they're allowed to switch off the alarm."
According to research from the University of Zurich, mobile phone signals can interfere with brain sleep patterns. Accordingly, Rise Up! features a night-time airplane mode to help safeguard sleepers.
Other features of Rise Up! Radio/Alarm include full radio functionality, weather display, adjustable natural alarm fade-in, nap-length suggestion and speaking clock facility.
For more information about Rise Up! Radio/Alarm, including product images and an interview with Mark, please contact Apps on Fire on +44 7400 948883 or at mark(at)appsonfire(dot)co(dot)uk.
NOTES TO EDITORS
1. Rise Up! Radio/Alarm is available as a $1.49 download from the Google Play Store at https://play.google.com/store/apps/details?id=com.riseupradioalarm . Screenshots and video are available at http://www.riseupradioalarm.com/press.html
2. http://www.riseupradioalarm.com/sleepscience.html
3. White noise and sleep research - Stanchina, ML., Abu-Hijleh, M., Chaudhry, BK., Carlisle, CC. and Millman RP. (2005), The influence of white noise on sleep in subjects exposed to ICU noise. Sleep Med 6:423-428
4. Binaural beats research - Lips, D., Salden, J., Koper, Y., Abrahams, L., Stupkova, T. and Campbell, G. (2011), ICC Group Project: The influence of Binaural Beats on Brain Wave Activity.
5. University of Zurich research - SCHMID, M. R., LOUGHRAN, S. P., REGEL, S. J., MURBACH, M., BRATIC GRUNAUER, A., RUSTERHOLZ, T., BERSAGLIERE, A., KUSTER, N. and ACHERMANN, P. (2012), Sleep EEG alterations: effects of different pulse-modulated radio frequency electromagnetic fields. Journal of Sleep Research, 21: 50–58.
6. Product features are:
a) Stunning nightstand UI featuring multiple clock themes - old-style LED, LCD, gorgeous Nixie tubes and more coming in future updates.
b) Internet radio receiver with many thousands of stations including BBC, NPR and Digitally Imported.
c) Sleep mode - choose from radio or relaxing sounds including the sea, jungle, a soothing fan, white noise, or hipnotic binaural beats.
d) Diverse wake-up options, including a selection of curated sounds, the radio, any song or sound from the user's device.
e) Natural alarm mode softly fades in.
f) Silence the alarm with a reaction time game to avoid disabling alarm during sleep, or flip to snooze.
g) Weather display automatically adjusted to the user's current location.
h) Fall asleep to relaxing sounds of the sea, white noise, or hipnotic binaural beats.
i) Tap-for-time – tap the screen during the night and the phone will read out the current time.
j) Homescreen widget with display of next alarm time.
k) Night-time airplane mode to avoid mobile signals affecting sleep.
l) Alarm fail-safe includes fallback tones in case Internet radio can't connect or selected song is not available.
m) Sleep science features including suggested nap time, in-app sleep tips, the reaction time game, 520hz alarm sound (proven to be effective at waking deep sleepers ) and binaural beats.