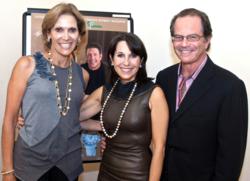 "It was an informative and emotional evening... abuse survivors shared their stories."
-Robin Levinson
ASPEN, CO (PRWEB) August 29, 2012
Mark & Robin Levinson, owners of internationally known Levinson Jewelers in Fort Lauderdale, Florida, along with Corum Watches and Private Journey Magazine, joined forces with Aspen resident and RESPONSE board member Lily Garfield to raise money and awareness for victims of domestic violence.
The who's who of Aspen gathered Thursday night at Aspen's exclusive hot spot restaurant, Cache-Cache, raising funds and awareness for RESPONSE, a non-profit organization providing assistance for victims of domestic violence and sexual assault. Mark & Robin Levinson, part time Aspen residents, hosted the evening along with well known Aspen resident and business woman, Lily Garfield. "It was an informative and emotional evening as guests heard domestic abuse survivors share their heroic stories" shared Robin Levinson.
"I feel that the event, with all the guests that attended, was so well received and I am so glad to give Response more awareness" said Lily Garfield "Lots of the guests are part time Aspen residents and had no knowledge about Response, what they do, or that it exists in our community. I and the Board of Response cannot thank Mark and Robin Levinson for making this evening successful." Steve Shonebarger, Executive Vice President and COO of Corum North America flew in to lend his support for the event the company co-sponsored.
About Levinson Jewelers
Because of its sterling reputation and elite status in the industry, the world's most prestigious lines and designers seek space in Levinson Jewelers store, including: Bulgari, Gucci, Hermes, Panerai, IWC, Corum, Franck Muller, Dior, Graham Watches, Hermes, Ivanka Trump Fine Jewelry, Piaget, Jaeger-LeCoultre, Penny Preville, Backes & Strauss and many others. Levinson's staff is well educated and knowledgeable, and includes GIA certified gemologists and jewelers. Owners Mark and Robin Levinson travel the world seeking the most precious jewels and unique items to provide to their discerning clientele. Levinson Jewelers is located at 888 East Las Olas Boulevard in Fort Lauderdale. For more information, please call (954) 462-8880 or visit: http://www.levinsonjewelers.com