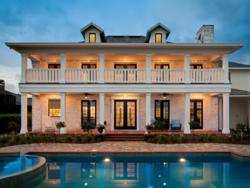 Columbus, OH (PRWEB) August 28, 2012
Not since 1895 have residents of the United States sizzled as much in July as they did this year.* However, even though the record-breaking heat made many people hotter than usual, the occupants of the Cool Energy House in Florida remained comfortable.
Created in early 2012 by the U.S. Department of Energy (DOE) as part of the Building America program, the Cool Energy House showcases innovations and products designed to help reduce energy usage. And, throughout every room of the home, a variety of energy-efficient Simonton windows are helping keep this home cooler in the summer and comfortable in the winter.
Located in Windermere, Fla., the 3,800-square foot two-story home, remodeled by Southern Traditions Development, uses technical innovations and leading industry products to achieve peak energy performance. The energy-efficiency upgrades are anticipated to reduce the energy usage of the 1996 custom-built home by more than 50 percent.
"The Building America Retrofit Alliance (BARA), one of the DOE's Building America teams, pursued this project to demonstrate cost-effective, integrated energy systems that can dramatically reduce annual energy use in existing homes," says Craig Savage, BARA project manager. "Other important benefits include the long-term results of the energy-optimization retrofit efforts in improving the overall building quality, comfort, safety and durability.
"The replacement of older, inefficient windows with top-quality vinyl windows is one of the keys to success for this project. Our decision to include energy-efficient Simonton windows in the Cool Energy House was a critical factor to achieving our high performance goals for the project."
Simonton Windows, which ranked "Highest in Customer Satisfaction with Windows and Doors, Three Years in a Row" in the J.D. Power and Associates 2011-2012 Windows and Patio Doors Satisfaction Studies SM, contributed ENERGY STAR® qualified windows to the home. The double hung and casement windows are part of the Decorum® by Simonton product line and were ordered with bronze exteriors, colonial sculptured grids and brushed nickel hardware. Some windows in the home feature antique cherry woodgrain interiors. Each energy-efficient unit includes a dual-pane insulating glass unit (IGU) with ProSolar® Low E glass and an Argon gas fill and an Intercept® spacer system.
Understanding Energy Efficient Windows
To create the energy-efficient windows used in the Cool Energy House and in homes across the country, Simonton starts with premium vinyl, which has strong thermal properties that help make an excellent insulator. A glass package is then selected to make up the IGU. This occurs when two or more pieces of glass are separated by a spacer system and then hermetically sealed at the glass edges.
The IGUs in the Cool Energy House windows are constructed with ProSolar Low E glass. A transparent metallic oxide coating applied to the glass surface allows short-wave energy to pass through but reflects long-wave infrared energy for greater thermal efficiency. For added energy efficiency, the space inside the IGU has been filled with Argon gas, a safe, odorless gas that is six times denser than air. This acts as an added insulation barrier against temperature transfer.
Finally, the Intercept Spacer System used in the windows is made of highly thermally prohibitive materials, placed between the glass panes to further reduce temperature transfer. The unique U-channel design of this spacer system minimized conduction for increased efficiency and comfort in the home. The U-shaped design flexes and contracts, helping reduce seal failure in the IGU.
"The custom-made Simonton windows in this home help showcase the economically sound measures and strategies that can be employed in remodeling projects," says Kim Foy, owner of Southern Traditions, the project contractor. "These practices and products can result in energy efficient, healthy, comfortable and durable homes."
Cool Energy House Project
BARA worked in close collaboration with the Consortium for Advanced Residential Buildings to design and engineer the Cool Energy House to achieve peak energy performance. Key energy-saving measures involved in the home's remodel include: air sealing and re-insulation; window, door, appliance, lighting and pool pump replacement; mechanical system replacement and air duct sealing; and cool roofing and novel building envelope additions.
Interactive tours of the home and more information on the project are available to builders, remodelers and the general public at http://www.barateam.org/eer/. The demonstration home is designed to help people understand how to integrate technical innovations into a high-performance retrofit project. For additional details on the Cool Energy House project in Florida, visit http://www.forresidentialpros.com/video/10476087/an-intro-to-the-cool-energy-house-retrofit.
Simonton Windows produces ENERGY STAR® qualified replacement and new construction windows and doors, including a line of impact-resistant products. Simonton has been ranked "Highest in Customer Satisfaction with Windows and Doors, Three Years in a Row" by J.D. Power and Associates.
Simonton was also ranked #1 in quality in the 2009, 2007, 2002 and 1998 Brand Use Studies sponsored by Builder magazine and has won three Best In Class Awards administered by LBM Journal Research Institute.
Founded in 1946, Simonton's hallmark has been to deliver the industry's shortest, most dependable lead-times. Part of Fortune Brands Home & Security (NYSE: FBHS), Simonton delivers award-recognized products nationwide to key markets throughout the 48 continental United States. Simonton is a Founding Sponsor of The Weather Museum, a Lifetime Founding Sponsor of the Lead Safe America Foundation, and a supporter of Homes for Our Troops. For information, call (800) SIMONTON (1-800-746-6686) or visit http://www.simonton.com.
###
Simonton Windows received the highest numerical score among window and door manufacturers in the proprietary J.D. Power and Associates 2010-2012 Windows and Patio Doors Satisfaction StudiesSM. 2012 study based on responses from 2,519 consumers measuring 11 brands and measures opinions of consumers who purchased new windows or patio doors in the previous 12 months. Proprietary study results are based on experiences and perceptions of consumers surveyed in January – February 2012. Your experiences may vary. Visit jdpower.com.
ENERGY STAR is a government program that helps consumers protect the environment through superior energy efficiency and is a registered trademark of the U.S. Department of Energy and the U.S. Environmental Protection Agency.
*Information released from the National Oceanic Atmospheric Administration (NOAA) on August 8, 2012.