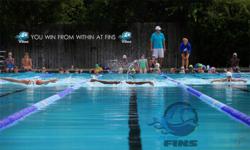 Every Stroke Counts and Every Swimmer is Important to Us
Spring, Texas (PRWEB) August 28, 2012
The FINS approach to swimming is five-fold and includes an equal combination of proper technique, training, mental preparedness, dry land training and nutrition. TeamFIN's motto, "Every Stroke Counts and Every Swimmer is Important to Us," reflects its commitment to its swimmers and their futures as successful competitive athletes. Each coach ensures that this mentality is put into practice every day.
The effectiveness of this approach is evident in the dedication and successes of TeamFIN swimmers. 2012 Olympic swimmer Cammile Adams, who placed fifth in the 200 fly in London, took private lessons at FINS. Swimmers who participated in these free summer swim clinics were encouraged to remember that, while Olympic swimming events occur only every four years, consistent training and practice throughout the year are the keys to developing the lasting skills required of high-level competitors.
TeamFINS Free Clinic
The dates for the TeamFINS free summer clinics were August 6 - 9 and August 13 - 16, each week spanning Monday through Thursday. Participants for the first week totaled at 102, while the second week's participants totaled over 120. Clinic times were as follows for each day of class:
8 - 9 am: 13 and over
9 - 10 am: 9 - 12 years
10 - 11 am: 8 and under
Each day of the clinic focused on expert training for a specific style of swimming. Monday featured the freestyle; Tuesday concentrated on the backstroke; Wednesday focused on the fly stroke; Thursday covered the breaststroke. Swimmers, at the conclusion of each day, fully comprehended the techniques and skill necessary to execute each style properly and efficiently.
Equipment needed for summer swim clinics included a swim suit, goggles and a towel. Participants could also bring a kick board, pull buoy or fins, but these items were not required. Swimmers attended one or both weeks as desired. FINS instructors emphasized the benefit of participating in both weeks, as students learn to better enhance their swimming through more "deep practice" this way.
Because the objective of these clinics was based on the introduction to a USA swim team, it is necessary that all participants have basic swimming ability in all four competitive strokes. By official rule, swimmers who are currently members of other USA swim team are not allowed to participate.
For additional information about TeamFINS and its teaching philosophy, please visit us online:
http://www.teamfins.com.
If you would like more information about free summer swim clinics with North Houston FINS instructors, please email bill(at)funinswimming(dot)com or visit the Fun IN Swimming website at http://www.funinswimming.com.