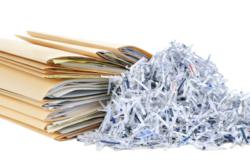 Don't just shred, SAFESHRED.
Los Angeles, CA (PRWEB) August 28, 2012
In recognition of American workers, SAFESHRED is offering a $1 per box paper shredding special during Labor Day week, from Tuesday, Sept. 4th through Friday, Sept. 7th. Hours of operation for the drop-off event will be 7:30am-3:30pm. Up to 15 boxes of personal or business records can be dropped off for secure document shredding at their City of Commerce location at 5928 S. Malt Avenue, Commerce, CA 90040. Anything over 15 boxes will be regular price. The facility will be closed Monday, Sept. 3rd in celebration of Labor Day.
Individuals who would like to have to the opportunity to watch their personal document shredded in front of them, can make an appointment for witness shredding at the facility. Call 1-800-987-4733 to make an appointment for Wednesday, Sept. 5th, 7:30am to noon, for additional $25.
Read more about SAFESHRED specials and shredding industry news on their blog, at http://www.safeshred.com/blog.
About SAFESHRED
SAFESHRED is a AAA-Certified on-site and off-site document, media and product destruction company, offering affordable, secure and reliable shredding to companies throughout Los Angeles and Orange County. For over 15 years, SAFESHRED has provided secure, comprehensive destruction services to clients with the highest security requirements and brand standards, including all levels of government agencies, aerospace, medical, legal entertainment, financial and high-tech industries.
SAFESHRED exceeds the rigorous security and process standards established by the National Association for Information destruction, which only certifies a small percent of shredding companies nationwide. SAFESHRED is also proud to be an industry leader in environmental sustainability, using only the most eco-friendly, energy-efficient processes available; 100% of the paper handled by SAFESHRED is recycled, at the rate of 134 million pounds of paper per year.
For more information about the company, please see their website at http://www.safeshred.com.
You are welcome to visit SAFESHRED in person. Call 1-800-987-4733 to arrange a free private tour of their 70,000-square-foot facility and watch the shredding process live!
Read more about SAFESHRED specials and shredding industry news on their blog, at http://www.safeshred.com/blog.