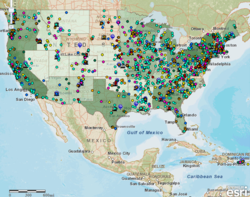 By expanding GIS's footprint into government and commercial health care organizations we will be helping an important industry reap the benefits of GIS's innate ability to empower decision makers," says Payal Kamdar, VSolvit CEO
Scottsdale, Arizona (PRWEB) August 28, 2012
After gaining national recognition for geospatial application development in the public food and nutrition sector for the U.S. Department of Agriculture (USDA), VSolvit aims to put their expertise to work towards a new goal. VSolvit unveils their intention to support the Health Care community by focusing on the industry's need for enterprise geospatial systems. The VSolvit team has joined forces with leading industry experts to establish VSolvit as fully equipped and prepared to be a trailblazer in the health care industry.
As a Gold Sponsor for the 2012 Esri Health Conference, VSolvit is committed to support the growth of GIS in healthcare settings. "By expanding GIS's footprint into government and commercial health care organizations we will be helping an important industry reap the benefits of GIS's innate ability to empower decision makers," says Payal Kamdar, VSolvit CEO. "Emerging into this new market place has not been easy," admits Ms. Kamdar, "but those in health care who have seen GIS's potential have truly opened a door to us."
One of these newly opened doors is Grand Challenges Explorations an initiative of the Bill & Melinda Gates Foundation. In May 2012 VSolvit was selected to participate in the Grand Challenge topic to design new approaches to optimize immunization systems. This grant has given VSolvit the opportunity to design a groundbreaking approach to integrate GIS with an advanced collaboration tool for improving immunization supply system and logistics management. This project will take place on an international scale in the hopes of helping vaccination supply chains in developing countries.
The new services VSolvit will now be offering include the following core services:

GIS Applications for Improving Vaccination Supply Chain Efficiency
Epidemiology Cancer and Disease Modeling and Analysis Support
Enterprise GIS Development for Public Health and Nutrition Programs
Public Outreach Web Applications with Integrated Social Media and Storytelling Interfaces
About VSolvit LLC
Founded in 2006, VSolvit LLC (pronounced 'we solve it') provides geospatial and information technology consulting services and solutions to clients in government and the private sector. VSolvit provides government agencies with fully screened, security-cleared and qualified professionals. VSolvit is a SBA-certified 8(a)/SDB and 8(m)/EDWOSB.