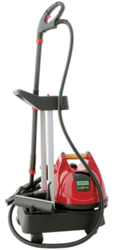 Vapor steam cleaners are the perfect way to create a safer, cleaner home while balancing the family budget.
Lake Forest, IL (PRWEB) August 28, 2012
1-800-GO-VAPOR.com, a nationwide name in the vapor steam cleaning industry that has set out to change the way people clean, announced today that cleaning with steam could save the average household over one thousand dollars a year. Instead of using expensive toxic cleaners that annihilate everything in their path, the Chicago-area company encourages consumers to switch to vapor steam.
"A vapor steam cleaner could cut your cleaning time by 50%," says V.K. Dunlop of 1-800-GO-VAPOR.com. "But if you need a wee bit more convincing before you put your supermarket cleaning products out to pasture, then consider this: A Ladybug steam cleaner not only will leave your home clean and fresh-smelling without the toxic side effects, it will cut your supermarket bill."
According to Dunlop, the average American family spends a whopping $1,200 per year on household cleaning products. Marketing Ladybug steam cleaners to families nationwide, 1-800-GO-VAPOR.com touts chemical free cleaning as a way to save families money and to help the environment, as well.
"Everybody is looking for ways to save cash in today's economy," says Dunlop. "Vapor steam cleaners are the perfect way to create a safer, cleaner home while balancing the family budget."
Vapor steam cleaners use only tap water to clean and sanitize almost any surface. By reducing the need for sponges, mops, buckets, paper towels and expensive household chemicals, they save families money, depending on the size of their home. Additionally, because they do not degrade or discolor the surface of what is being cleaned like abrasive cleaning products do, vapor steam cleaners prolong the life of appliances.
"While bleach has been trusted for years as the perfect disinfectant, bleach leaves as many live bacteria cells as dead cells," says Dunlop. "But scientific testing has found that steam cleaners equipped with Ladybug's proprietary patented TANCS® technology, like the top-selling Ladybug Tekno 2350 steam cleaner, kill the cells that are unreachable by bleach."
According to Chuanwu Xi, Assistant Professor in the Department of Environmental Health at the University of Michigan, "Scientific studies have found that biofilms can be up to 1000 times more resistant to biocide inactivation than are suspended microbes. It is extremely difficult to get rid of biofilms and kill them. The efficacy of the steam vapor system is important because even strong chemical disinfectants such as bleach when allowed 20 minutes of dwell time did not achieve the same degree of kill that the TANCS®-equipped unit accomplished in three seconds."
Located in Lake Forest, Illinois, 1-800-GO-VAPOR.com is moving fast to educate consumers and businesses that finally, there's a feasible, environmentally friendly alternative to chemicals. The company markets Ladybug, Reliable and Vapamore steam cleaners. For more information, call 1-800-468-2767. 1-800-GO-VAPOR.com is a proud member of the Safer Chemicals, Healthy Families coalition, a nationwide effort to protect families from toxic chemicals. To stay safe and avoid toxic chemicals, keep abreast of the latest news with 1-800-GO-VAPOR.com's Twitter account, @1800GOVAPOR.