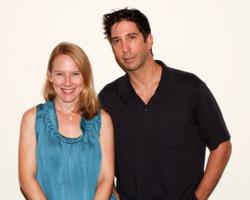 New York, NY (PRWEB) August 28, 2012
TheaterMania interviewed long-time "Friends" star David Schwimmer about his new stage venture, co-starring with Oscar and Tony Award nominee Amy Ryan in the Playwrights Horizons production of Lisa D'Amour's "Detroit". He recently spoke about his return to the New York stage, how fatherhood is affecting him, his plans for the future, and his thoughts on musicalizing his hit television series "Friends". The following is an excerpt from the interview.
THEATERMANIA: What made you decide to come back to New York theater now?
DAVID SCHWIMMER: The last several years I've been directing movies, and each movie takes so long to actually develop and shoot and do the post-production -- especially "Trust". Then my wife (Zoe Buckman) and I had a baby, so I wanted to be home a lot, but I've been chomping to get back on stage. So, when "Detroit" came about, I jumped.
THEATERMANIA: What did you think when you first read the script?
DAVID SCHWIMMER: I just thought it was fantastic for several different reasons. I thought, "Wow, this is really funny, but really unsettling." It was unnerving, but it tapped into something that I felt was really powerful and relevant and timely about the climate of the country right now. I felt like it tapped into a kind of vulnerability and an insecurity in that we are in financially troubling times. All of that combined, plus hundreds of other things that are happening in science and technology and health, it seems like there's a kind of anxiety that we can't really find solid ground. "Detroit" demonstrates that feeling of uneasiness.
To read the full interview, click here or visit TheaterMania.com.
For more up-to-the-minute theater news, show listings, video, features, reviews of Broadway Shows and tickets visit TheaterMania.com.
About TheaterMania.com, Inc.
TheaterMania.com is the information and ticketing source for over 5,000 shows nationwide. For over ten years, TheaterMania.com has connected the theater community to the public as the leading online resource for consumers to find shows, get tickets, and save money to theater nationwide. TheaterMania.com publishes comprehensive show listings, provides Broadway ticket discounts, editorial content, and video coverage for over 40 markets and widely distributes free email newsletters and special offers to over 675,000 registered subscribers. In addition, TheaterMania.com creates online marketing programs for performing arts organizations, and provides technology to power ticketing, fundraising, and CRM through its proprietary software, OvationTix.