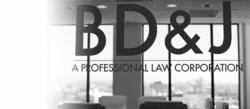 Our firm has the utmost confidence in our partner's abilities and we consider ourselves among the best at what we do.
Beverly Hills, CA (PRWEB) August 28, 2012
The Los Angeles personal injury law firm of Banafsheh, Danesh & Javid, P.C. has secured another settlement for one of their clients, this time in a case that another Los Angeles law firm rejected because they felt the chances of success were unlikely.
In this case (Los Angeles Southwest District Courts, Case No. BC460756) a 66 year old man (the client) was attempting to cross the street when he was struck by an LA Metro bus (Superior Court of California – Los Angeles Southwest Division). According to court documents, the client suffered two broken legs as a result of the Los Angeles pedestrian accident. He was also forced to undergo four surgeries to his legs and lower extremities. The client spent 2 weeks in the hospital following his accident and was forced to attend rehabilitation at The California Orthopedic Institute.
Court records explain that the client, who walked with the assistance of a cane, was crossing at 78th Street & Figueroa St. in Los Angeles. As he approached the opposite sidewalk, the light to cross turned red. Eyewitnesses' say he was 4 feet from the opposite sidewalk when the LA Metro Bus hit him. The resulting $750,000 settlement was a surprise to the client, but not to lead attorney, Sean Banafsheh.
"We often taken on, and win, cases that other firm's reject. We were glad that this client did not give up when they were told their case was a loser. Our firm has the utmost confidence in our partner's abilities and we consider ourselves among the best at what we do. Cases like this illustrate that." partner Sean Banafsheh explained.
According to pedestrian accident informational website, walkinginfo.org, 4,280 people died from pedestrian vs. motor vehicle accidents in 2010. 70,000 people were reported injured in pedestrian accidents that same year. The website notes that the real numbers may be much higher, because research into hospital records has illustrated that only a fraction of pedestrian crashes that cause injury are ever recorded by the police.
According to the Insurance Institute of Highway Safety's (IIHS) website, pedestrian accidents among the elderly are not all that uncommon. The rates of pedestrian deaths in motor vehicle crashes per 100,000 people are highest for people ages 70 and older. In fact, pedestrians this age had the highest death rate every year since 1975.
Statistics underscore the importance of driver and pedestrian vigilance on our highways. It is of the utmost importance that drivers and pedestrians alike take care when traveling on our roadways. Pedestrians can improve their safety by limiting their walking during nighttime hours. If they must walk during these times, wearing protective clothing and sticking to well-lit streets and roads is always a good idea. Drivers should take care to be aware of pedestrians and not speed! The IIHS website indicates that speeding affects the risk and severity of pedestrian accidents.
About Banafsheh, Danesh & Javid, P.C.
Banafsheh, Danesh & Javid, P.C., is a well-respected Beverly Hills, CA personal injury law firm that serves clients throughout California. The firm maintains offices in Los Angeles, Orange County, San Francisco, San Diego, Riverside, San Bernardino, San Jose, and Sacramento. The firm's http://www.bdjinjurylawyers.com/ handle cases on a contingency fee basis, not charging a fee unless they can gain a recovery for their clients. They practice all form of personal injury law including but not limited to truck accidents, motorcycle accidents, car accidents, pedestrian injuries, brain injuries, wrongful death and other serious injury claims.
The firm also features a staff that speaks Spanish, Italian, Farsi and Hebrew in addition to English and offers free consultations via their toll free number 800-820-1111.