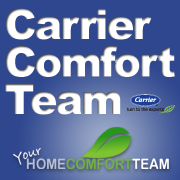 (PRWEB) August 28, 2012
While summer is winding down, the extreme heat has yet to dissipate. This has left many homeowners and businesses seeking the services of HVAC professionals to service their air conditioning systems. To provide some monetary relief to customers on these costly expenses, the Carrier Comfort Team, an elite group of Carrier HVAC Dealers serving parts of Illinois, Indiana, Kentucky, and Missouri, is currently offering two money-saving deals. New customers who are in need of air conditioning repair, or who are seeking maintenance for their heating and cooling systems, can take advantage of $25 Comfort Cash, good toward any repair, service, or replacement.
The second offer, gives customers the opportunity to save up $500 on the installation of a new furnace or heat pump with GreenSpeed Intelligence. While often misconstrued as a heating system, a heat pump is a great option for those considering AC installation this late in the season, as it performs both cooling and heating functions. In addition, this system type provides various energy efficient benefits, including reduced energy expenses. Customers who have systems which are 10 or more years old, or who are consistently experiencing performance and operational issues with their systems should contact an HVAC specialist who can recommend repair solutions or system replacement.
Both of these great deals expire on August 31, 2012, so customers are encouraged to take advantage while they still can. For more information on these deals, or to find a Carrier Comfort Team Dealer in your area, please visit http://carriercomfortteam.com/.
About Carrier Comfort Team
Serving customers throughout Illinois, Indiana, Kentucky & Missouri, the Carrier Comfort Team is a select group of Carrier Dealers which have gone above and beyond in their industry to provide excellent service in their region. The Carrier Comfort Team is highly trained to service all makes and models of HVAC equipment, providing a variety of services ranging from maintenance and repair to geothermal system installations and indoor air quality.