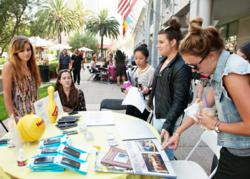 Los Angeles, CA (PRWEB) August 28, 2012
From industry trends and career advice to job resources and college career events, the Career Center at FIDM/Fashion Institute of Design & Merchandising has launched Career Center 411, a helpful new column on The FIDM Blog.
A recent post focused on the rise of mobile apps that allow you to search for jobs and career resources such as Spark Hire (for iPhone), Jobs You'll Love (for Android), and ResumeBear (for Android and iPhone). Career Center 411 has also focused on the benefits and risks of working freelance versus being employed full-time.
Their debut post featured the college's Career Connections 2012, an alumni and student networking event that was hosted at all four FIDM campuses in Los Angeles, San Francisco, Orange County, and San Diego. Alumni spoke with students about the importance of networking with the right people, as well as the preparation that FIDM gives in finding the career that fits each student best.
The Career Center at FIDM assists students in finding internships in their respective fields during their time at FIDM and offers on-campus recruitment and job fairs throughout the year. Advisors help students find the right opportunities for them as they launch their careers and Career Center services are available to FIDM alumni for as long as they choose to work in the industries FIDM serves.
FIDM/Fashion Institute of Design & Merchandising is a co-educational, specialized, private college dedicated to educating students for the Fashion, Graphics, Interior Design, and Entertainment industries. Known as a one of the top fashion design colleges, FIDM is also a leading graphic design school and visual communication college. Visit fidm.edu for more information.