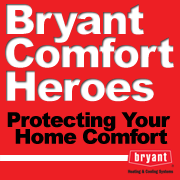 St. Louis, Missouri (PRWEB) August 28, 2012
Due to the excessive heat that has settled across the Midwest this summer, residents throughout Southern Illinois and eastern portions of Missouri have been in dire need of air conditioning repair services. Those seeking St. Louis air conditioning service can take advantage of two great deals currently being offered by the Bryant Comfort Heroes. A group of exceptional HVAC Dealers, the Bryant Comfort Heroes connect those in need of service, with reputable service providers in their area. For homeowners and business owners looking for St. Louis air conditioning repair, the Bryant Comfort Heroes are now offering $25 of Comfort Cash good towards any repair, service, or replacement. This offer is valid for new customers only.
Additionally, customers can save $500 on the installation of a new modulating furnace or Bryant Evolution Extreme heat pump. As summer winds down, this offer is ideal for those considering system replacement. While many believe that a heat pump only heats a space, as the name suggests, it has the capability to provide both heating and cooling functions. Performing these functions in an energy efficient manner, homeowners typically see significant energy savings with this type of system. Older systems (typically those that are 10 or more years old) are more likely to experience operational issues and lose energy efficiency as time passes. Those who are subjected to system problems on a regular basis are encouraged to consult an experienced HVAC specialist for advice on whether to repair or replace.
These money-saving offers are both set to expire on August 31, 2012, so customers are asked to take advantage now. For more information on these offers, or to find a Bryant Comfort Heroes Dealer in your area, please visit http://www.bryantcomfortheroes.com/.
About Bryant Comfort Heroes
The Bryant Comfort Heroes are a network of highly trained and knowledgeable Bryant Dealers across Southern Illinois and Missouri who have proven to offer their customers with service excellence, and ultimately ensuring that they exceed their expectations by getting the job done quickly and accurately. The Bryant Comfort Heroes service all makes and models of heating and cooling equipment, and provide a variety of services ranging from repair and maintenance to indoor air quality and geothermal system installations.