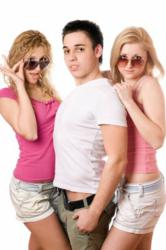 the quality of women in a man's life is a reflection of the quality of man that he is.
Hoboken, NJ (PRWEB) August 29, 2012
Christian Hudson is a dating guru who has been dispensing advice on how to attract, flirt with and seduce women for years. Many of his courses and books have been released through a company called the Social Man, which he runs with several other relationship advice authors. Hudson's latest course is the Girlfriend Activation System. This offering focuses not only on attracting women, but on attracting the type of women who are "girlfriend material," then fostering a serious romantic relationship with them.
Hudson's course gives advice on all the aspects of getting a girlfriend, from attracting the right kind of women to getting the first few dates to steering the relationship from casual to more-serious. According to Hudson, the Girlfriend Activation program was created with all types of men in mind. He claims that novices with little or no dating experience will be able to use the material in the course to overcome their inexperience and get a quality girlfriend, while even experienced daters will be able to glean information about how to attract the type of girlfriends that they really want to have.
Reviewers have praised this course, citing its unique approach (it focuses on romance and relationship development rather than on picking up girls for a casual sexual encounters). Hudson gives his take on things like how to build romance and excitement in every stage of a relationship. Readers are given real-life examples to illustrate the approach that Hudson advocates. He also spends time talking about how men can make themselves more attractive "boyfriend material" (in his terms: "the obvious choice" for a woman seeking a serious relationship). Again, Hudson gives a variety of examples on how he feels this building of attraction can best be achieved.
The Girlfriend Activation System also advises men to look at their inner game and at themselves as a whole. Hudson writes, "the quality of women in a man's life is a reflection of the quality of man that he is." He stresses that in order for this program to work, a man has to bring something to the table, and that women who have qualities that make them worth fostering a serious relationship with are seeking men who have similar qualities. One of the core themes of this program is learning how to demonstrate your value and positive qualities as a boyfriend/lover to the woman that you want to make your girlfriend/serious lover.
Hudson gives advice in the controversial video about how to do this in a variety of situations, from a casual conversation to an intimate sexual moment. He claims that decisive moments, like when there is drama or conflict in the relationship, are actually part of the building process, and that if men know what to do in these situations, they can use these times proactively to further convince a woman that they are what she desires.
A presentation about the Girlfriend Activation System can be found here: http://www.makesmalltalksexy.com/activate