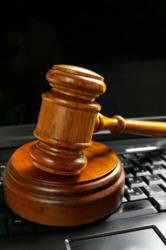 when the haystack hiding the needle is made up of bits and bytes, any lawyer worth their salt will turn to a trusted and reputable outside vendor to do the heavy lifting necessary to leverage the power of computer forensics
New York, NY (PRWEB) August 28, 2012
When companies collide, like Apple and Samsung, it all comes down to who can prove what was done when, who the main players were, who said what to whom and who knew what when.. Since most business correspondence and record keeping is done in digital form today, the smoking gun which will lead to victory for one side and defeat for the other is most likely in digital form. And when digital information is involved in any way, shape or form, that means Electronic Discovery (eDiscovery) will be a fiercely contested battleground during the quest to find the truth.
Whether it's a single lawyer fresh out of law school working out of an office the size of a prison cell, or an entire team of high profile, high priced lawyers that routinely make minced meat out of anyone in their path, the path to victory still lies in the most basic tenet of law – evidence.
In the world of computer forensics, and by extension eDiscovery, there are only a handful of experts out there (if that) with more experience under their belt than Joe Caruso, founder and CEO/CTO of Global Digital Forensics, and his seasoned team of computer forensics experts. Whether the case involves a pair of Fortune 100 corporate behemoths like Apple and Samsung locking horns, single individuals involved in a dispute, or any shade in between, when the haystack hiding the needle is made up of bits and bytes, any lawyer worth their salt will turn to a trusted and reputable outside vendor to do the heavy lifting necessary to leverage the power of computer forensics and maximize every potential advantage when the eDiscovery game plays out in court.
"When a matter is headed to court, professional legal counsel should always lead the charge, anything less would simply be foolhardy" said Caruso. "But by the same token, when electronic evidence is part of the legal maelstrom, lawyers should know that trying to be a jack-of-all-trades and take it all upon themselves to deal with the many nuances and complications involved in identifying, acquiring, analyzing and producing digital evidence is equally as foolhardy. It doesn't take much to find example after example of cases imploding due to shoddy forensics work and eDiscovery, not to mention judges furious about sheer technological incompetence finally just saying "enough" and doling out huge fines and/or crippling sanctions, if they just don't throw the whole case out altogether. "
"Take email forensics for instance, if it was just a matter of opening a sent mail folder and going through the list, anyone with a solid grasp on the language, assuming only one language is involved of course, could just sit down and mine for gold. But that is simply a fantasy, reality is far more complicated. In reality people delete emails, in reality people upgrade and replace systems, in reality backups are kept, and/or destroyed, in reality emails can take a path that hops them all over the globe before they land in the adjacent cubicle, in reality the opposition is going to rake every finding, every process, every analysis and every other facet of digital evidence damaging to their case over white hot coals trying to invalidate it. And the cold, hard truth is dragging a novice over those coals until nothing but ash is left is laughably easy, but dragging us over those coals is like trying it with a phoenix wearing a fireproof stuntman's suit, which is to say, not a favorable situation for the opposition. We know how to avoid the pitfalls. We know how to efficiently and effectively correlate the data into timelines, player lists and any other relevant form necessary. We know how to deal with multiple languages, cloud providers, webmail accounts, and yes, even the burgeoning world of social networking, and we know how to defend everything we do."
"That's why we are offering a free consultation, once you know exactly what you are up against, what you can expect and how we can help, we are confident you will be a future client, and once you've experienced what Global Digital Forensics brings to the table the first time, we are just as confident you will remain a loyal client the next time you have a matter involving computer forensics."
Digital evidence can be extremely time sensitive. Even simple things like turning a system off and on can alter important information like metadata, making it far more time consuming and thus far more costly to "take the long road" in establishing critical digital evidence. So if there is even the slightest hint of an impending legal matter, don't hesitate to call.
*Global Digital Forensics is a recognized leader in computer forensics, with plenty of email forensics and eDiscovery experience under the hood as well. To speak with a digital evidence specialist about a legal matter involving Electronically Stored Information (ESI), or to get assistance with developing a full service plan tailored to suit your unique situation and needs, call 1-800-868-8189 anytime 24/7. You can also visit http://www.evestigate.com for more information.