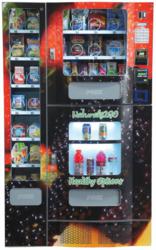 Hoschton, GA (PRWEB) August 29, 2012
Hoschton residents Steve and Susan Tally wanted to be involved in a business which could improve people's diets while reflecting their own active lifestyle. "People are more health conscious today," they noted. "Schools and workplaces are setting the example by providing better snack options. More and more businesses are trying to support employees looking for ways to make healthier lifestyle choices. Several local businesses love the idea of providing employee's healthier options in a sophisticated vending machine."
Enter Naturals 2 Go -- an Idaho-based vending company with over 20 years in the business. Steve and Susan are passionate about the food industry, they want to help people with healthier selections and loves how the company offers nutritionally sound snacking and beverage options for busy, active people. "Healthy vending machines bring to your school or office natural, organic and preservative-free snacks and beverages," they said.
The Tally's added that they were impressed with the Naturals 2 Go machine because it employs sophisticated technology in offering purchases by credit and debit cards, as well as cash. The machine houses a virtually silent cooling unit to keep beverages cold and the program allows you to choose the products you would like your machine stocked with. Onboard cellular communication technology provides Steve and Susan with real-time reports to keep selections available at all times.
Steve has been a general store manager for Home Depot and Susan is an office manager for an internal medical practice. Steve is a very active sports enthusiast and enjoys playing golf and tennis. He also enjoys fishing and hunting. Susan is a fitness and health eating enthusiast who focuses on the healthy eating. With her current employment with an Internal Medial doctor, she see's the effects of eating healthy!
If you are interested in having a Naturals2Go Healthy vending machine placed in your business, please call 404-660-5354 or e-mail steven_tal(at)msn(dot)com.