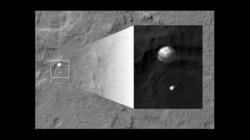 Bedford, NH (PRWEB) August 29, 2012
Haigh-Farr, a Business Unit within the Vitec Group, and the world leader in design, development and manufacturing of flight-body antennas for defense, space and commercial applications, congratulates NASA's Jet Propulsion Laboratory (JPL) on the successful landing of the MSL (a.k.a. Curiosity) Vehicle on Mars. Haigh-Farr designed and manufactured the four-segment WraparoundTM Antenna at its Bedford, NH facility. At NASA's Pasadena, CA facility, the antenna was installed on top of the spacecraft that contained the Rover.
"We are extremely proud to be a part of this history making event and look forward to participating in future space missions with JPL and other members of the NASA team," says David Farr, CEO of Haigh-Farr. "This is another major milestone in space exploration and will support the continued investment in increasing our understanding of the universe beyond Earth."
Haigh-Farr's Wraparound Antenna system was used during the crucial entry, descent and landing (EDL) phase of the Mars Science Laboratory (MSL) Mission on August 5-6, 2012. Its objective was to provide mission-critical telemetry data back to NASA engineers as to what the Rover was experiencing as it made its descent onto Mars. MSL was the first planetary mission to use precision-guided lifting trajectory landing techniques. It included the ability to convey the largest amount of data ever obtained throughout the EDL process during a non-Earth entry.
Haigh-Farr's Wraparound Antenna system was previously used successfully on the NASA Phoenix Lander during EDL. The antenna consists of four segments individually mounted on the parachute cone and provides nearly full spherical coverage.
About Haigh-Farr
Haigh-Farr, Inc. (Haigh-Farr) is a Business Unit within the Vitec Group Videocom Division. Haigh-Farr has an over 43-year history of designing and producing exceptionally rugged, high performance antennas for a diverse array of applications including launch vehicles, spacecraft, missiles, aircraft, UAV's and satellites. Well known for their ability to adapt their core technology to provide a solution meeting any vehicle's unique performance and environmental requirements, Haigh-Farr's expertise results in affordable solutions with proven reliability.
More information can be found at http://www.haigh-farr.com.
A Snapshot of the Vitec Group
Vitec is an international Group principally serving customers in the broadcast, photographic and military, aerospace and government (MAG) markets. Listed on the London Stock Exchange with 2011 revenue of £351 million, Vitec is based on strong, well known, premium brands on which its customers worldwide rely. Vitec is organized in three divisions: Imaging & Staging, Videocom and Services.
Imaging & Staging designs, manufactures and distributes equipment and accessories for photography, video and events.
Videocom designs and distributes systems and products used in broadcasting and live entertainment, film and video production and MAG.
Services provides equipment rental, workflow design and technical support for camera, video, audio, fiber optic and wireless technology used by TV production teams and film crews.
More information can be found at http://www.vitecgroup.com.