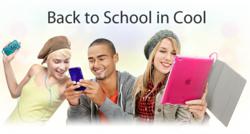 Go Back to School in iSkin cool
Toronto, Ontario (PRWEB) August 28, 2012
iSkin, a premium brand for fashion and technology lifestyle accessories for the mobile generation, is announcing the return of its fun and easy Erase 'n' Save Online Event just in time for Back to School.
Preparing for the new school year can be an expensive ordeal for parents. iSkin is doing its part in alleviating the pressure by giving online customers the opportunity to save on their purchases through the iSkin Erase 'n' Save Online Event.
For students looking to get cool, fashion-forward accessories for their beloved iPhone®, iPod® and Mac® products, as well as their BlackBerry® and Samsung® smartphones, the Erase 'n' Save Online Event offers fantastic savings for budget-conscious students.
Students can now save up to 50% on iSkin's must-have mobile accessories to add either a dash of fashion or great protection for students' growing array of mobile devices.
iSkin Inc. has been one of the world's most trusted mobile accessories brands since its first advanced protective solution for the iPod® in 2002. Known for its cool, innovative designs and fashion-forward style, iSkin continues to be the leading mobile accessory brand.
iSkin Inc. is one of the first companies to start advanced protective solutions with fashion-forward style for mobile devices since the birth of the iPod® in 2001. iSkin has earned the reputation of being one of the most trusted mobile accessories brands by focusing on delivering the highest quality, innovative design and fashion-forward style.
The iSkin word mark and logo are registered trademarks of iSkin Inc., registered in Canada, the United States and other countries. All Rights Reserved 2006-2012.
For additional information on this and other iSkin products, please contact iSkin PR at press at iSkin dot com or at (416) 924-9607, ext. 248. Follow iSkin on Twitter and Facebook.